Caterpillar provides one of the largest ranges of electrical power systems in the heavy machinery market. If your Houston area business needs reliable power generation, count on Mustang Cat to help you every step of the way.
Dependable Electric Power Generation From Caterpillar
From the beginning, our team will partner with you to develop the right power system for your business. Choose from electric power equipment such as:
Automatic transfer switches: Our automatic transfer switches provide ongoing power and safety by directing power between your main and backup sources as needed.
Diesel and gas generators: We offer both diesel and gas gensets to meet a variety of power requirements.
Microgrids: Sustainable microgrids from Caterpillar act as fully integrated power systems with control systems, energy storage, gensets, ATS and switchgear.
Mobile generator sets: We combine Cat® mobile generators with world-class service to deliver power when you need it the most.
Switchgear and paralleling controls: Manage your power system with dependable paralleling controls and switchgear.
Benefits of Cat Generators and Power Systems
Businesses across the world depend on Mustang Cat for top-of-the-line performance and support. We build customer trust through:
Engineering built to last: The engineers at Caterpillar design with reliability, efficiency, and longevity in mind. Cat equipment features modular engineering with easily replaceable parts for ongoing performance. Cat equipment has a high level of demand that enables them to retain their value over time.
Extensive financing and insurance options: Cat dealers like Mustang Cat provide comprehensive financing, warranty, and insurance options. These choices enable you to protect your purchase for added peace of mind.
Assistance from the global Cat network: As a Mustang Cat customer, you'll get access to support from our dealership as well as Cat dealers across the world. Wherever you go, you can find a Cat dealership ready to assist.
Electric Power Industry Support
When you buy electric power generation equipment from Caterpillar, you get more than just a product — you get an experience. Mustang Cat and the Caterpillar network will help you get the most out of your power system with:
Parts and service: Get the parts and service you need to keep your Cat power system running the way it should. Our customers have access to parts and service from across the Caterpillar network, including emergency repairs.
Customer Value Agreements: Consider a Cat Customer Value Agreement (CVA) when you want to lower your cost per unit of production. You get to determine the agreement to fit your business goals.
Connectivity: With Cat Connect remote asset monitoring, you can view your power system's status from anywhere. It combines robust asset data with easy-to-use analysis tools to help you make informed business decisions.
Power systems training: Caterpillar offers a wide range of virtual and in-person training opportunities for power systems operation. Electric power training from Caterpillar will teach you how to get the performance and cost savings you need from your purchase.
Finance and warranty: Electric power products from Cat feature warranties ranging from 12 to 24 months. Extend your warranty or get help with financing by reaching out to one of our representatives.
Batteries, controls, and paralleling: Allow our engineers to deliver custom power system solutions to optimize your operations. Controls, batteries, and paralleling upgrades will enable you to improve flexibility and boost performance.
Cat Power Systems Service in Southeast Texas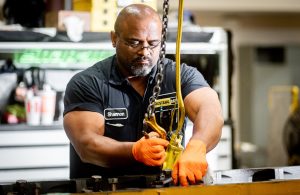 In addition to power system sales, we provide power system service throughout Southeast Texas. Count on our experts to deliver:
Field service: Our power system technicians can perform on-site or emergency power system services 24 hours a day. They cover our 35-county service area in Southeast Texas, including Houston and surrounding areas.
Engine service: The service team at Mustang Cat can handle engine-related jobs of all scopes, including preventive maintenance and rebuilds.
Generator service: Get the generator service you need from our experts. We offer routine and emergency maintenance to keep your facility running.
Additional Support From Mustang Cat
At Mustang Cat, we deliver the Mustang Promise to all of our customers. We promise quality, protection, and trust to our customers through guarantees such as:
Mustang Welcome Kit with every new equipment purchase
Service requests fulfilled within 48 hours
$10 million in Cat parts in stock, in addition to the full Parts.Cat.Com catalog
Discover the Caterpillar Difference
Find out why businesses in Southeast Texas count on Mustang Cat for heavy equipment that gets the job done. If you have any questions, we welcome you to contact our experts online.