Mustang Cat Parts & Service Overview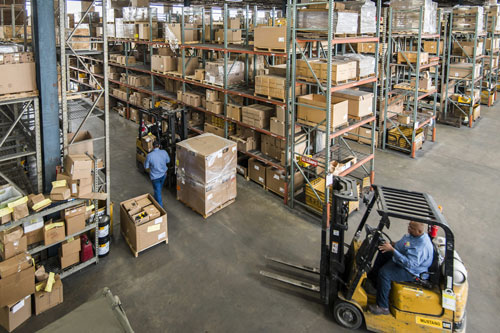 At Mustang Cat, we're committed to helping you get the job done with quality parts and services. We offer reliable products to buy or rent, and we believe in supporting you throughout the ownership of your equipment. Our parts and service departments are ready to work when you are. Whether you need online parts ordering, hydraulic rebuilds or field service, Mustang Cat can help you with all your parts and service needs.
Meeting Your Needs Online and In-Store
To keep your Cat® equipment running at its best, Mustang Cat provides parts and services online and in our stores for your convenience.
You can order parts online or visit any of our store locations in Southeast Texas to find the part you need. You have the option to acquire them in-store or have your parts delivered to one of our sites for pick-up. We also offer curbside pick-up to eliminate wait times and get your part to you as quickly as possible.
To ensure full parts availability, Mustang Cat also has 10 drop locations to get your part to you from a non-store location that's nearby. Call or place your order online and choose a drop site nearest you.
If you're looking to service your Cat equipment, our store locations provide product support, service for machinery and power systems, and engine rebuilds. Our product support and machinery service teams help with a range of maintenance and repair needs for both Cat and non-Cat equipment to keep your fleet in good condition. Power systems services keep your power supply in working order to support productivity.
The Mustang Cat engine rebuild facility is the largest in North America, making it an ideal location for cost-effective rebuilds from certified Cat technicians. We supply full engine overhauls, natural gas upgrades and diesel engine kit installations to give you the ideal engine rebuild for your operation.
Find a Mustang Cat Parts & Service Location Near You
Our locations cover Houston and the surrounding area for parts and services that are accessible wherever you're located. Find parts stores at the following locations in Southeast Texas:
Order Quality Machinery Parts from Parts.Cat.Com
Available 24/7, our online parts department features electronic books with easy-to-use parts graphics. You can search parts availability, check pricing, explore remanufactured options, and create frequent order and equipment lists.
When you order parts online, you can have them shipped to one of our stores for pick-up or delivered directly to your location. Parts.Cat.Com is the fastest, easiest way to order genuine Cat parts online.
Count On Mustang Cat for Your Machinery Parts and Service
At Mustang Cat, we provide machinery parts and service to support your Cat equipment. Rely on us to reduce downtime and keep your operation running smoothly when you order new parts or come to us for repairs. Check out our store locations to find one nearest you.
If you have any questions about our parts or service, contact us today.


Contact Us
Get in Touch With Us
If you need equipment advice or just need additional information, we want to hear from you.
Questions? We're here to help:
800-256-1001