Think Big: The Cat Dealer Prep Program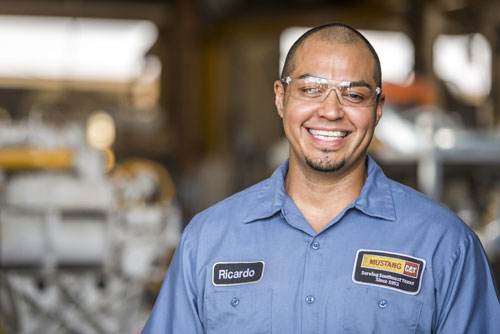 The Cat Dealer Prep Program is designed to prepare entry-level service technicians for employment at Mustang Cat. During this full-time, 2-year program, the student will devote approximately half of their time to technical and academic education. The remaining time is dedicated to on-the-job experience at Mustang Cat. Each semester will consist of eight weeks of classroom study and eight weeks of required employment.
Start the Think Big application process today:
Complete the Think Big Application
Provide proof of acceptance to Oklahoma State University Institute of Technology (OSUIT) – Okmulgee, OK
Provide two letters of recommendation (i.e. employer, counselor, educational instructor, etc.)
Include test results of your SAT, ACT, or COMPASS placement test
Schedule an interview with Human Resources
Not only can Think Big students earn a degree, but students also have an opportunity to acquire the following benefits:
Earn your Associate's and/or Bachelor's degree
$6,000 scholarship from Mustang Cat
Tool reimbursement of up to $4,000
Tuition reimbursement available
"Earn while you learn" – 5 paid internships as part of your Cat curriculum
Mustang Mentor Program provides on-the-job training by experienced Cat Technicians
Learn "real world" job skills that train you to excel as a Service Technician at your Caterpillar dealership after graduation
Opportunity to work on the latest, high-tech equipment from the industry leader in heavy equipment 
Caterpillar equipment
Possibilities to earn over $45,000/year to start
Click here for more information regarding our Think Big Program benefits and costs.
If you have questions about our Think Big program, please contact Human Resources by email or phone.
Phone: (713) 460-7232
Email: careers@mustangcat.com
Hours of operation: 8 a.m. – 5 p.m.