Mustang Cat® Parts Delivery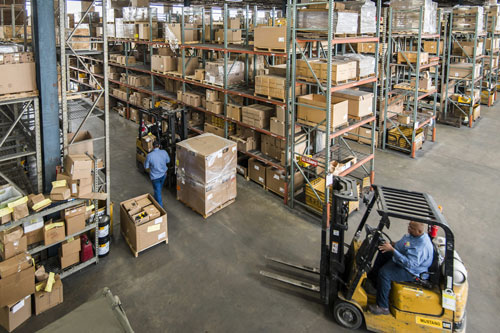 Keeping equipment running in peak condition is critical to the success of every operation. Choosing a reliable parts supplier familiar with your fleet's machinery is vital for ensuring you receive the highest-quality replacement parts exactly when needed. More importantly, partnering with a company that offers multiple parts pickup and delivery options to meet your requirements is crucial.
At Mustang Cat®, we want to provide you with fast delivery of your parts to eliminate downtime. That's why our store locations are connected by a daily shuttle system that relays and delivers parts. We have parts locations in Houston and throughout Southeast Texas to provide our customers with convenient access to the new and used parts they need.
click here to view our parts locations
Buy Parts for Delivery or Pickup in Houston and Southeast Texas
At Mustang Cat, we understand the importance of filling your orders quickly and delivering them on time. With our dedication to world-class customer service and unparalleled quality, we are the top choice for Cat parts in the region. Knowing that you have a reliable parts supplier to ship your orders on time allows you to focus on the tasks that matter most to your operation instead of spending countless hours following up on the status of shipments. 
As the region's authorized Cat dealer, Mustang Cat offers an extensive parts selection to service, repair and maintain hundreds of equipment models, from excavators and bulldozers to forklifts and skid steer loaders. Whether you order your parts online, over the phone or in-store, you receive precisely fit components to keep your operation moving smoothly and your equipment running in peak condition. We provide a comprehensive range of solutions to suit nearly every budget.
Placing your parts orders with Mustang Cat gives you the peace of mind of knowing your order will arrive fast, securely and accurately.
Order Parts Online for Quick Delivery or Pickup
Available 24/7, our online parts department at parts.cat.com features electronic books with easy-to-use parts graphics. You can search availability, check prices, explore remanufactured options and create frequent order and equipment lists. When you order parts online, you can have them shipped to one of our stores for pickup or delivered directly to your location. 
Some of the primary benefits of ordering your parts online include the following:
Convenience: When you use parts.cat.com for your replacement parts needs, you can access our vast inventory with the convenience of using any internet-enabled device. Our ordering platform gives you access to critical order information for follow-up, like confirmations, pricing and delivery tracking. You can also review past invoices and create lists of the frequent parts you order for even faster service. 
Speed: Ordering online allows you to avoid waiting on the telephone and traveling to your local store. Because parts.cat.com operates 24/7, you can order the moment you realize you need something. Creating a secure account allows you to save your payment methods, shipping addresses and other information to benefit from even greater convenience.
Accuracy: When you set up an online account, you can add all the machines in your fleet by serial number or model to ensure all your orders will meet your equipment's specifications. These features significantly minimize the need for exchanges, returns and additional equipment downtime.
Ease of use: Easy-to-use search bars, menus and filters on parts.cat.com ensure a streamlined ordering experience, even for large orders. Various resources provide access to additional valuable information like images, installation instructions, maintenance requirements and more.
Parts.cat.com is the fastest, easiest way to order genuine Cat parts online. Visit our online parts store today.
Contact Us Today to Find a Drop-Off Location Near You
If you're interested in learning more about how ordering parts from Mustang Cat can benefit your operation, our parts delivery team members can help. We aim to supply you with the highest-performing and most durable and affordable parts solutions while ensuring you receive your orders quickly and conveniently. Connect with us online or call 800-256-1001 today to learn more.