Cat Material Safety Data Sheet (MSDS) Resources
In accordance with federal laws regarding worksite safety, Mustang Cat provides Material Safety Data Sheets (MSDS) for all products that are sold and distributed by Caterpillar or Mustang Cat. 
Our MSDS sheets maximize worksite safety for anyone that might be working or interacting with our products. All Caterpillar MSDS are available online, by clicking the image below.
Staying true to our values, means sharing free safety resources with our customers.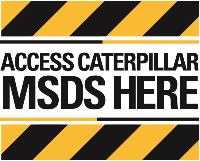 A Material Safety Data Sheet (MSDS) is provided by the manufacturer of a product to describe any physical and chemical hazards associated with that product. Feel free to contact us with questions regarding MSDS on products distributed by Caterpillar and Mustang Cat.