For the heaviest jobs, you need the most durable, rugged equipment to ensure efficiency, high performance and effective results. At Mustang Cat, we have a wide selection of backhoe rental equipment designed to make your next construction or landscaping project easier. We're available to help all business owners throughout the League City, Beaumont and Houston areas with backhoe rentals every step of the way — from offering guidance on which backhoe is most appropriate for your job specifications to performing fast, reliable repairs and maintenance when you need it.
The Most Reliable Cat Backhoes for Rent Near You
When you need a dependable, versatile solution for completing a range of different tasks, look no further than the backhoe — this sturdy piece of equipment can provide effective results for several different tasks including construction, small demolitions, building material transport, excavation, landscaping and road paving. With its small frame, precision handling capabilities and assortment of different attachments, Cat backhoes add efficiency, safety and accuracy to any type of project, large or small.
Now you may be wondering, "Where can I find a backhoe rental near me?" At Mustang Cat, we stock Cat backhoes in different models and configurations to easily adapt to any project scope. When you choose to rent a Cat backhoe from Mustang Cat, you benefit from exceptional manufacturing techniques and products with the latest features and improvements including:
Comfortable cab spaces with adjustable air suspension seating and ergonomic controls
Advanced load-sensing hydraulic systems that offer improved control and exceptional fuel efficiency
Reliable power train that boosts backhoe travel speeds up to 25 miles per hour for improved cycle times and prompt results
Full 360-degree visibility for improved job site safety and more precise operations
Reasons to Rent a Backhoe From Mustang Cat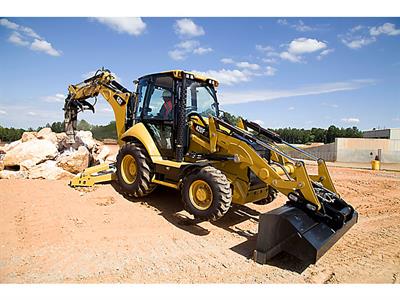 Many local Houston area businesses find themselves bogged down by increasing equipment operational costs and lack of available resources required to improve profitability and overall success, that's where the backhoe rental solutions at Mustang Cat come in. By finding Cat rental backhoes and other construction equipment, you can greatly save on your company's overhead expenses and have more flexibility in your daily operations. When you rent backhoes with us, you'll also experience the following benefits:
Access to the latest backhoes and construction equipment with flexibility to expand your operations to new types of projects
Ongoing 24-hour technical support and machine repair and maintenance services
Flexible rental solutions with equipment availability for a few days up to several months — swap out rental machinery with other models as your jobsite needs change
Call Us Today to Learn More About Our Backhoe Rental Options Throughout the Houston Area
Mustang Cat is the most trusted name in Cat rental equipment throughout the Houston community and beyond. With more than 70 years of extensive local experience and a team of helpful, knowledgeable Cat equipment specialists, we're confident that we can provide affordable and personalized backhoe rental solutions near you to suit all of your long- and short-term needs.
Don't hesitate to contact us today to learn more about our backhoe rental options — call us at 713-452-7368 to speak to one of our local team members or complete our online contact form.
Contact Us
Get in Touch With Us
If you need equipment advice or just need additional information, we want to hear from you.
Questions? We're here to help:
713-452-7369