One of the most recognizable, yet dependable and versatile pieces of construction equipment is the mini excavator. The mini excavator, similar to their standard sized counterparts, have a heavy-duty backhoe attachment useful for a range of earthmoving projects — making digging faster, easier and more effective than attempting to dig a worksite by hand. Many Freeport, Texas, area businesses rely on mini excavators for their job sites because their lightweight design, compact size and easy-to-use controls can succeed in spaces where standard excavator equipment cannot.
Mustang Cat offers a full line of mini excavator equipment for rent to accommodate any type of project available in several sizes and dig depths. Whether your worksite has rough, uneven terrain or other environmental considerations, you can rely on the quality of our Cat mini excavator rentals to provide dependable, efficient performance. With our Cat mini excavators for rent, you can confidently complete even the most challenging projects — ensuring superior productivity, timely completions and cost-effective operations.
Rent an Excavator Near Me
When you have a big job that requires power but maneuverability—opt for a Mustang Cat Excavator. Mustang Cat has wide range of machinery to choose from. Our micro and mini excavators, which start at about 1 ton, can handle tough jobs without requiring a ton of space.
For bigger projects, browse our selection of medium or large excavators. Machinery here starts at about 12 tons and has a reach of about 19'. For more complex projects, we also offer specialty excavators. Easily attach various excavation attachments to machinery to better suit your project goals.
Mini Excavators for Rent Throughout the College Station Area
With our fleet of mini excavators for rent, we guarantee you'll maximize your operations, improve worksite efficiency and reduce project costs. At Mustang Cat, we offer a range of different mini excavator sizes and capacities to suit any type of site need, including those with limited space considerations or those that require variable dig depths reaching up to 16 feet, nine inches. All of our mini excavator rentals are available with several work tool attachments to complete any type of project, including:
Landscape and stump removal
Construction sites and demolition of small structures, asphalt, steel and concrete
Installation of pools, hot tubs and ponds
Plowing snow
Drilling and backlifting
Advantages of Mini Excavator Rentals From Mustang Cat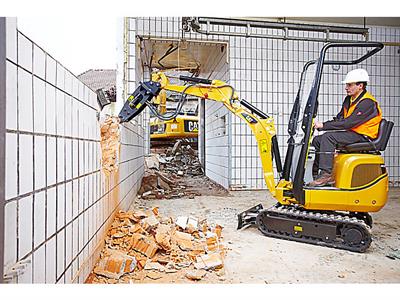 What makes our mini excavators the best equipment rental option for League City, Texas, business owners is that all of our products are comfortable, durable and easy to operate. Every Cat mini excavator is manufactured according to the highest standards and designed for optimal use and exceptional long-term performance. With mini excavation equipment rentals you'll also experience:
Access to the latest equipment models, upgrades and features
Overall cost savings on equipment maintenance, transportation and storage
Flexible operations to schedule different types of projects
Additional job capacity to complete projects in a more efficient manner
Upfront cost savings to use for other resources and tools for your business
Rent Quality Excavators From Mustang Cat Today
For the most reliable and effective heavy-duty mini excavation equipment rentals available throughout the Freeport, Texas, community and its surrounding areas, look no further than the selection available only at Mustang Cat. We offer the widest selection of mini excavator rentals in weights up to 7,000 pounds to easily accommodate any sized job or project specifications. When it's time for you to rent a mini excavator for your next job, trust that our team of friendly, knowledgeable professionals can help guide you to the most appropriate machinery rental solutions. Learn more about our mini excavators for rent today by filling out our online form or calling 800-256-1001 to speak to a team member.