Rent An Excavator from Mustang Cat
No matter what type of work you need to do – digging, moving, backfilling – your Cat® excavator rental is sure deliver top tier performance, excellent fuel efficiency, and unmatched versatility. Simple operation, outstanding durability and the latest safety and technology features is why we are the most trusted when our customers want to rent an excavator.
Mustang Cat offers a multitude of excavator rentals with options to support any size jobsite. Cat Excavators are well known for their utility and dependability. Excavators are one of our most rented pieces of heavy equipment machinery.
Uses For Your Excavating Equipment Rental
Our customers use their excavating equipment for a variety of jobs. The type of excavator rental you  choose, ultimately depends on the size and needs of your jobsite. If you need help deciding which excavator rental would be best for you, speak with one of our Mustang Cat Rental Store Representatives.
Most commonly, we see excavator rentals being used for the following jobs:
Digging
Earthmoving
Material Handling
Industrial Demolishing
Mining
Forestry
River Dredging
Benefits of Opting For An Excavator Rental
Excavator rentals afford you to the opportunity to have large construction equipment at your disposal, without having the bill to go along with it. This is perfect for small business owners that need increased power capacity on their job site or even for larger construction companies that might need equipment for a temporary timeframe.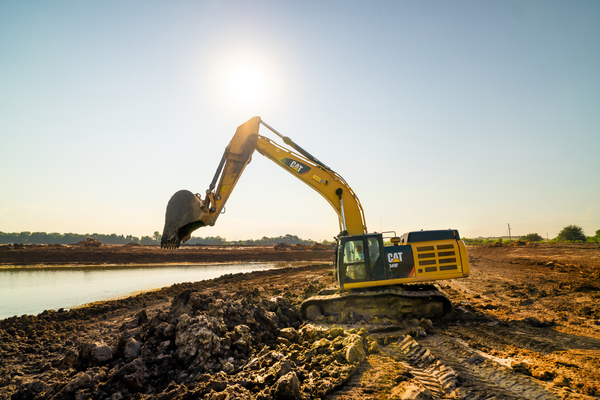 Other Benefits to Take Advantage of When It Comes to Excavator Rentals:
No Financial Commitment – We get it, the supply chain has been so erratic lately. With an excavator rental, you won't have to worry about financial commitment. You simply reserve your fixed rate rental whenever your jobsite needs it.
No Repair Costs – With a rental, you don't have to worry about outrageous machinery repair costs or keeping up with routine machinery maintenance. If you have issues with your excavator rental, call us for a quick replacement.
No Need For Storage – Have your excavator rental delivered directly to your jobsite at the start of a job. This omits the need for having to find and pay for costly storage. Once you're done, we'll pick the machinery back up. It makes for a highly efficient and convenient process.
Reduce Transportation Costs – Gas prices have risen significantly. Take the worry and expense out of hauling equipment from jobsite to jobsite, with a Mustang Cat equipment rental.
Project Specific Rentals – Our diverse fleet of excavators rental options, allows you to choose the perfect piece of equipment to meet the needs of your jobsite. Instead of buying new equipment for each jobsite's needs, why not opt for a rental?
Where Can I Find An Excavator Rental Near Me?
For the most reliable excavator rental near you, contact Mustang Cat. We have a vast amount of fleet, ranging from micro and mini excavators to medium and large excavators for rent. When it's time for you to rent an excavator for your next job, trust that our team of friendly, knowledgeable professionals can help guide you to the most appropriate machinery rental solutions.
Learn more about our excavators for rent today by filling out our online form or calling 713-452-7368 to speak to a team member.
Contact Us
Get in Touch With Us
If you need equipment advice or just need additional information, we want to hear from you.
Questions? We're here to help:
713-452-7369