Power Systems Engine Service
We offer certified Cat service and shop rebuilds for your engines, large and small. No matter the complexity of the job, our skilled technicians are trained to find the best solution that meets your needs. Mustang offers a wide range of repair procedures ranging from preventative maintenance to fan-to-flywheel overhauls as well as remanufactured engines. We also have a full staff of certified truck engine technicians to fill your truck engine requests.
Engine Rebuilds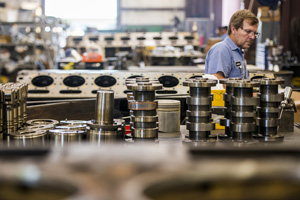 Mustang Cat provides a variety of rebuild programs, all meant to deliver a cost-effective "second life." Mustang Cat's rebuild programs provide you with the best quality and value, at a fraction of the cost of buying new.
Certified Rebuilds – The most complete procedure. The old machine is completely disassembled, and all non-metal components are replaced. Some large metal components (frames, rippers, blocks, etc.) can be reconditioned and reused.
Certified Power Train Rebuild – Similar to a Certified Rebuild, but includes only components that are the part of the power train. Many owners find that the Power Train rebuild can provide a significant improvement to the machines performance. This rebuild process is a good choice if your goal is to strike an effective balance between cost and performance.