Mustang Cat has several light and heavy compact track loaders for rent that are specially designed to improve the productivity and efficiency on all of your worksites. Cat rental equipment is widely recognized as the leading compact track loader in the industry with the necessary engine capability to handle any type of heavy-duty job from agriculture to manufacturing to construction, Mustang Cat offers top rated operating capacity and dependability.
BROWSE RENTAL COMPACT TRACK LOADERS
Whether you know exactly which compact track loader option best suits the specifics of your project or you need guidance on which construction equipment works best for your materials, project scale and capacity expectations, Mustang Cat can always offer you the perfect track loader solution. With Mustang Cat you're always assured knowledgeable services from qualified professionals and quality products from top-rated brands. When you with with our skilled and honest experts for all of your compact track loader rental needs throughout the Conroe, League City and Channelview, Texas, areas, we promise to always provide affordable, reliable and professional machine rental and servicing solutions.
The Most Dependable Compact Track Loaders for Rent
When local Beaumont area business owners work with the experts at Mustang Cat, you can expect complete access to the highest quality and most dependable compact track loader equipment from Cat, a leading equipment manufacturer. Cat has a long standing reputation for manufacturing excellence with a focus on developing superior track loader products that are designed for streamlining performance and minimizing worksite costs.
Our compact equipment rentals are available in several sizes to handle any type of small to mid-lift range project. All of our compact track loaders are also available with a variety of different attachment options from forks to augers for improved performance and versatility even on rough terrain. Mustang Cat also carries wheel loader options, if that might suit your project better.
Why Conroe Area Business Owners Choose Cat Compact Track Loaders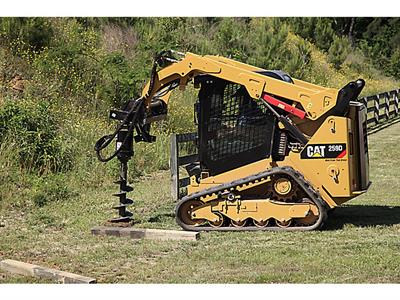 With so many types of material handling equipment options available, why do many Conroe area managers and business owners trust Cat compact track loaders? By renting our compact track loaders, you'll find that our equipment exceeds even your highest expectations and offer several worksite advantages like:
Exceptional long-term performance: Our Cat compact track loaders feature superior power train and independent axle suspension to smoothly operate on any type of terrain from slopes and uneven ground to snow covered sites.
Comfortable, safe operations: For optimal comfort to promote the overall health and wellness of the track loader operator, the equipment's cap is sealed and pressurized with air conditioning and an ergonomic seat. With its advanced display, your operator has greater overall awareness for improved safe use.
Versatile usage: With its efficient operations and sleek design, a compact loader can work on any sized job size, maneuver throughout any type of exterior terrain and move a variety of different materials with several attachment options.
Reliable, Efficient Track Loader Service and Support 24/7
At Mustang Cat, we stand behind all of our compact track loader rentals. If your tracked loader requires an unexpected part replacement, has undercarriage issues, or needs maintenance inspections, you can trust our team to perform effective, reliable services 24 hours a day. We respond promptly to all of our machinery service calls with fully loaded trucks and experts knowledgeable and ready to perform any type of repair need, large or small.
For Durable Compact Track Loader Rentals, Choose Mustang Cat
Choose Mustang Cat for all of our compact track loader rental needs near Conroe, Texas, and its surrounding communities, we guarantee you'll also receive the highest quality, dependable products from top-rated equipment manufacturers like Cat. Our track loader rental selection is competitively priced and is sure to meet your exact job needs and budget. Explore our selection of skid steer and compact track loaders today.
Have More Questions About Compact or Mini Track Loader Options?
Learn more about compact equipment rentals by speaking with a Mustang Cat operator today. Call us at 713-452-7368 or fill out our online contact form here.
Contact Us
Get in Touch With Us
If you need equipment advice or just need additional information, we want to hear from you.
Questions? We're here to help:
713-452-7369