Mustang Cat Machine Field Service & Maintenance
Regular machine field service is beneficial for your Cat® Machinery. It will save you repair costs and downtime in the long run. When a service is needed, Mustang Cat provides you with the best service and support to keep your heavy equipment running at the top of its game. Our highly skilled technicians will ensure all repairs are completed with quality and care. Whether you need general repair, a technical specialist, or even rebuild or welding work, we have the right tools and staff to meet your needs.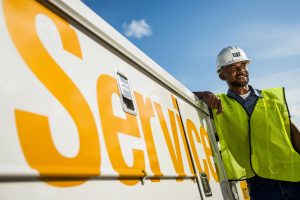 Benefits of Field Service And Maintenance 
Field service provides optimal protection and advantages for your fleet.
Savings: Mustang Cat is here to help your business run smoothly and efficiently. With their assistance, costly equipment mishaps can be quickly taken care of on-site for a fraction of the price keeping transportation costs low. Enhance productivity and profitability by taking advantage of this valuable service!
Speed: At Mustang Cat, we are dedicated to providing you with the highest quality field service around. Our repairs come quickly and reliability thanks to our team of trained technicians available 24/7 – so whatever problem arises, help is always close at hand!
Durable Machines: Cat® equipment is synonymous with reliability and dependability, making it the top choice for any job site. You can trust your machines to keep powering through until each task is complete – so why stop there? With comprehensive machine field service from Caterpillar, you'll enjoy long – term success from your fleet.
When Should You Have Your Machinery Serviced?
As a heavy machinery owner, it's important to prioritize regular servicing to ensure your equipment operates at its best. Maintaining routine checks and repairs can help prevent larger issues down the line, ultimately saving you time and money in the long run. While it can be easy to push off maintenance in favor or more pressing issues, waiting too long to service your machinery can result in costly breakdowns and unexpected downtime. To avoid these complications, make sure to schedule routine service appointments and address any potential problems.
Request Machine Field Service
Request field services by filling out the form below if you have an accident or equipment mishap while on the jobsite. Our trained field service technicians have the skills and knowledge to repair on the spot. This allows you to save time and money. Contact us today to find out more about services we offer or give us a call.