Mustang Cat Machine Field Service & Maintenance
Regular machine field service is beneficial for your Cat Machinery. It will save you repair costs and downtime in the long run. When a service is needed, Mustang Cat provides you with the best service and support to keep your heavy equipment running at the top of its game. Our highly skilled technicians will ensure all repairs are completed with quality and care. Whether you need general repair, a technical specialist, or even rebuild or welding work, we have the right tools and staff to meet your needs.
Mustang Cat Machine Field Service Capabilities 
Field service and maintenance are the way to go if you want to save time and money. Field service is ideal for on-site repairs and routine maintenance on heavy equipment. Our field service technicians are dispatched to the jobsite to reduce the costs associated with transporting heavy machinery. Mustang Cat brings expert repairs to your jobsite to ensure optimal protection.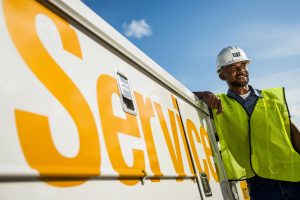 Benefits of Field Service And Maintenance 
Field service provides optimal protection and advantages for your fleet.
Savings: Mustang Cat's goal is to increase your productivity and profitability. If an equipment mishap occurs, Mustang Cat can get you back up and running quickly at a fraction of the cost. Reduce transportation costs by having your technicians perform repairs on-site.
Speed: We appreciate your productivity at Mustang Cat. Our field service is the quickest way to get repairs you require. We have skilled maintenance technicians on call 24 hours a day, seven days a week.
Durable Machines: Cat® equipment is known for its performance, dependability, and durability, which is why you rely on it every day. When you're out on a job site, you need and expect your equipment to keep working until the job is done. Machine field service enables you to obtain longevity from your fleet.
Request Machine Field Service
Request field services by filling out the form below if you have an accident or equipment mishap while on the jobsite. Our trained field service technicians have the skills and knowledge to repair on the spot. This allows you to save time and money. Contact us today to find out more about services we offer or give us a call.