Rent a Skid Steer
Whether you're working on a large-scale construction project or redesigning a patch of landscaping, you need durable, high-performance equipment solutions to cover a range of different tasks from digging to vehicle loading to material handling — and that's where the versatile and heavy duty skid steers from Mustang Cat come in. Skid steers are among the most popular construction equipment rentals available because of it's flexible, easy-to-use and effective design.
BROWSE RENTAL SKID STEER LOADERS
At Mustang Cat, we're the leading skid steer rental company helping businesses throughout Southeastern Texas, including the Splendora, Conroe and Bryan communities. With our three decades of practical experience and broad selection of CAT skid steers for rent, we can recommend solutions that meet or exceed your performance expectations, project specifications and budget needs — helping you to efficiently finish any type of project you're working on.
Skid Steer Rentals From Cat for Southeast Texas
Skid steers are one of the best construction equipment solutions available because these machines can complete projects in any type of environment — with its range of sizes and capacities, rental skid steers can easily maneuver tight job sites or improve the productivity of large, widespread projects. By renting a skid loader from Mustang Cat, finishing your next site development, landscaping or demolition and construction project can be more economical and efficient.
At Mustang Cat, we offer several types skid steer loader rentals that can manage light and heavy-duty work loads from top-rated manufacturer Caterpillar. All of our Cat rental skid steers are specially manufactured for improved visibility, safety, control and ease of operation. With advanced hydraulic systems, our Cat skid steers guarantee maximum performance and dependability for any job. Work with the experts at Mustang Cat today to find a skid steer rental solution that meets your project needs.
Reasons to Rent a Skid Steer For Your Next Project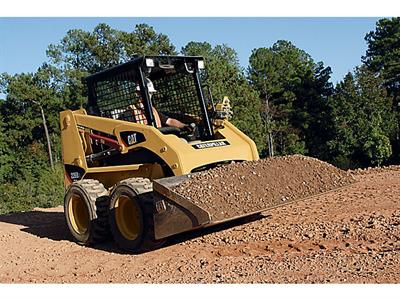 While skid steers are always available for purchase at Mustang Cat, we find that local area businesses benefit the most from our variety of skid steer rental options. We offer flexible rental solutions allowing you to rent a Cat skid steer for several days or even longer depending on the needs of your project. When renting, you have the ability to try out the latest equipment features and upgrades as well as experience:
Significant operational savings by avoiding equipment service, maintenance, transportation and storage costs. 
Flexibility to take on new and different types of projects that equipment ownership often prevents and reduce downtime. 
Additional resources to invest in other tools and equipment for your business. 
Explore Your Skid Steer Rental Options Today With Mustang Cat
When you work with the experienced and knowledgeable local experts at Mustang Cat, you're assured exceptional quality and dependability, comprehensive equipment solutions and personalized skid steer rental solutions. We invite you to check out our variety of rental skid steers available in a range of sizes and capacities to fulfill any type of project need. Call us today at 833-441-7368 to learn more about our skid steer rental options, or complete our online form to request additional information.
Contact Us
Get in Touch With Us
If you need equipment advice or just need additional information, we want to hear from you.
Questions? We're here to help:
713-452-7369