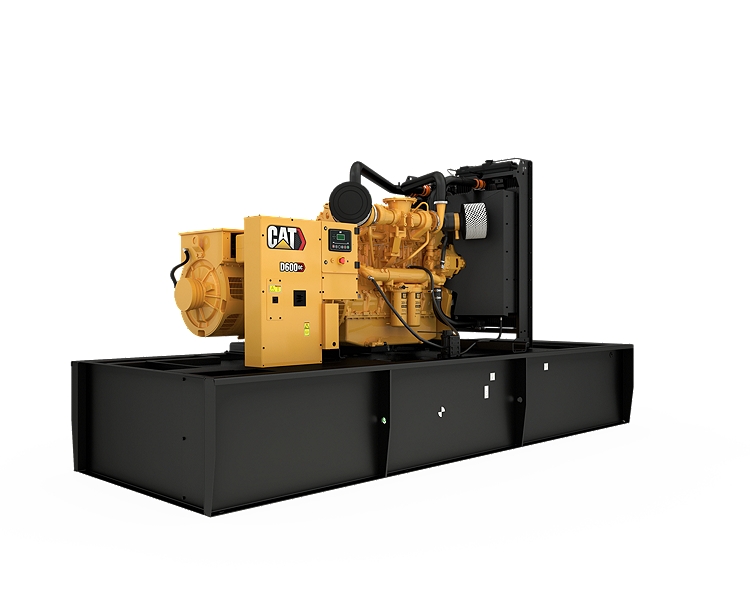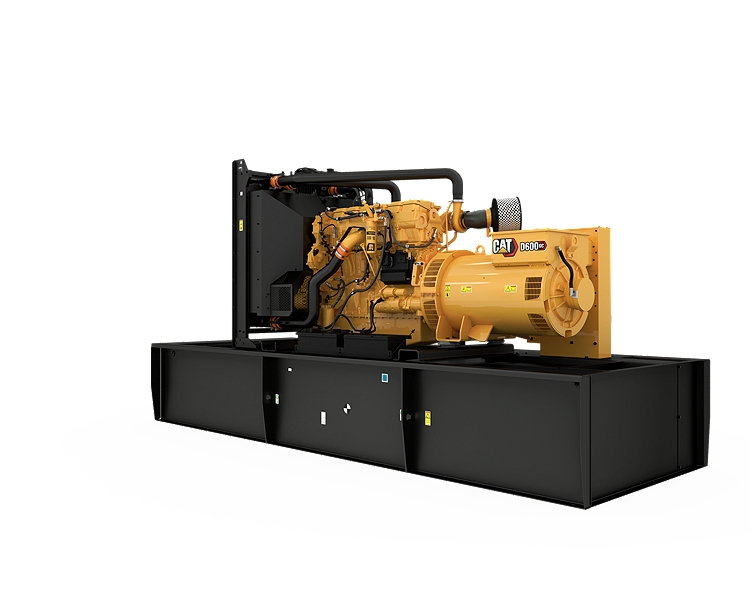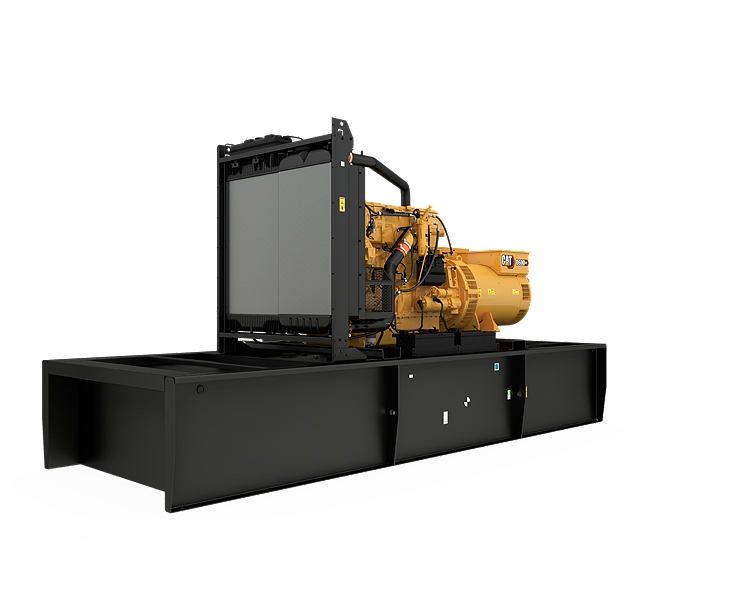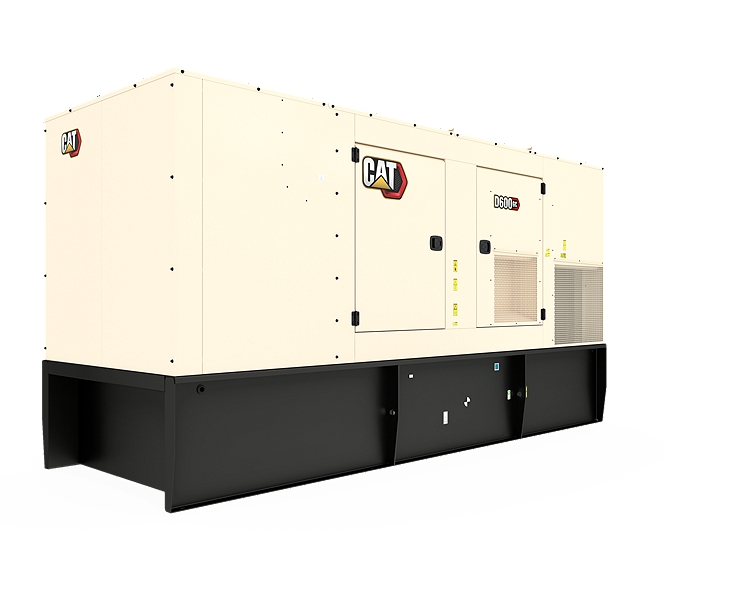 D600 GC (60 Hz) Generator Set
Caterpillar is leading the power generation marketplace with Power Solutions engineered to deliver unmatched flexibility, expandability, reliability, and cost-effectiveness.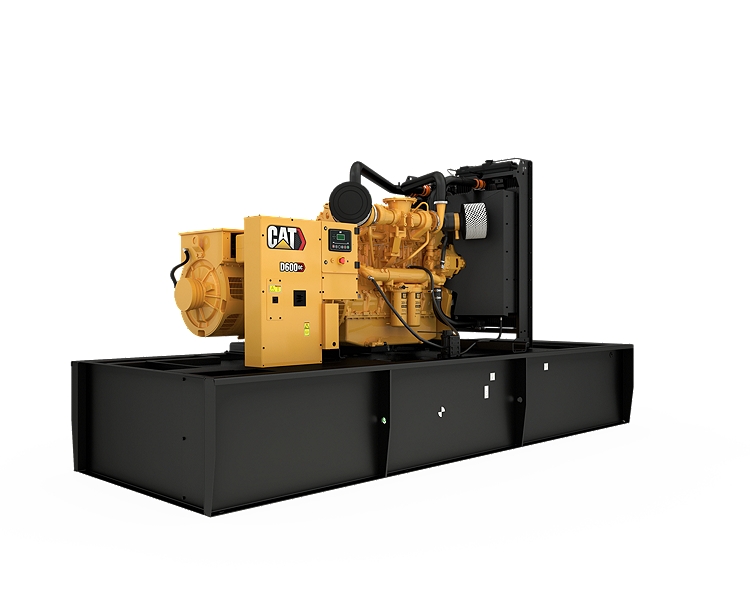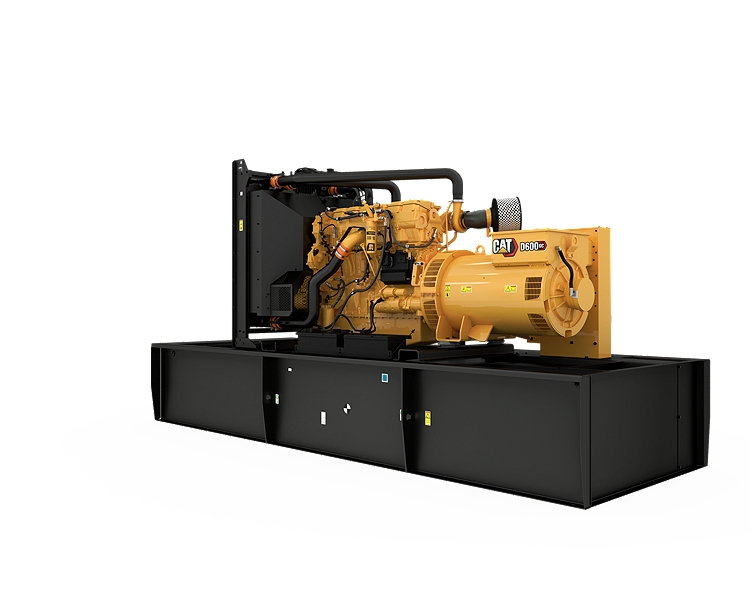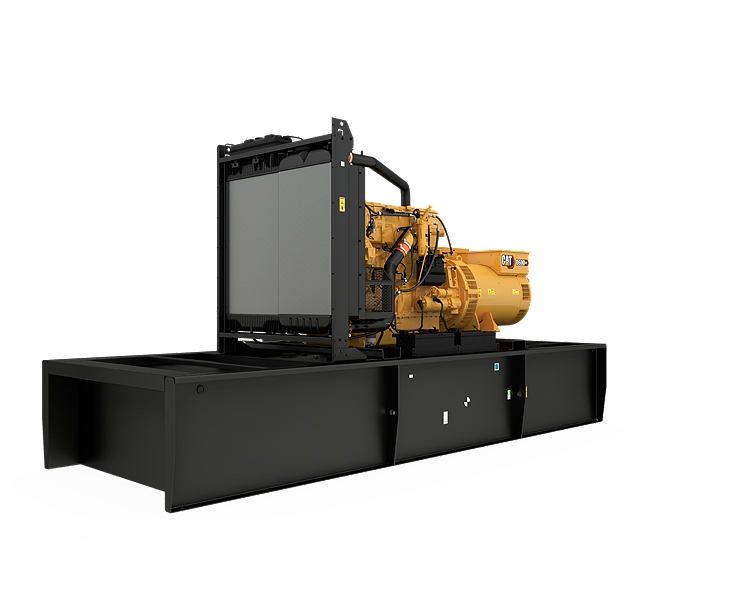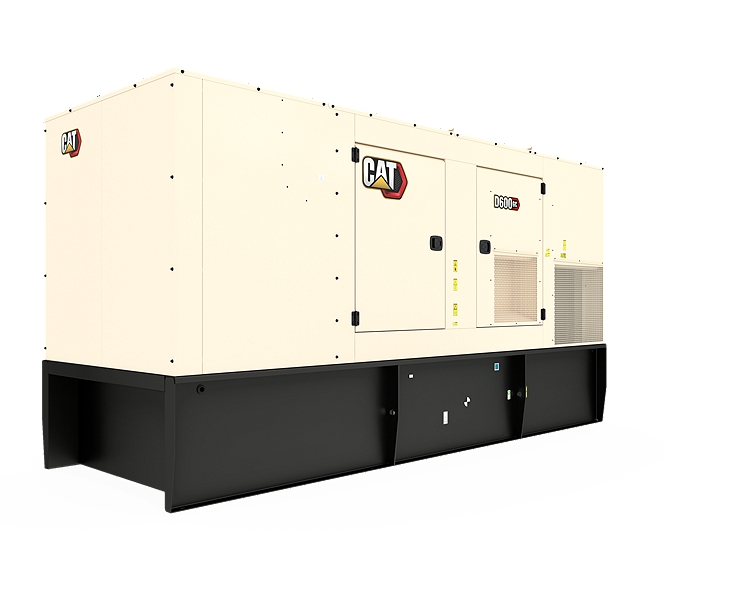 Generator Set Specifications
Engine Specifications
Cat® C18 In-line 6, 4-cycle Diesel
Turbocharged Air-to-Air Aftercooled
Generator Set Dimensions
Dry Weight - Genset (minimum)
8959.6lb
Dry Weight - Genset (maximum)
11647lb
Standard Equipment:
Air Inlet System

Turbocharger
Air cleaner - Non canister, disposable
Aftercooler core

Control Panel

Cooling System

Radiator sight gauge
Thermostats and housing
Coolant drain valve
Jacket water pump, gear driven, centrifugal
Blower fan and fan drive with guards
Radiator, package mounted

Exhaust System

Fuel System

Fuel cooler
Primary fuel filter w/integral water separator and secondary filter, spin on
Integral tank base, 24 hours, UL142
Engine fuel transfer pump
Fuel priming pump

Generator Set

Complete system designed & built at ISO 9001:2000 certified facilities
Factory tested to design specifications at full load conditions
All protective devices and control functions simulated and checked

Generators And Generator Attachments

6 Leads
Voltage regulator (single phase sensing)
Easy access to AVR and terminals
Insulation system, Class H
Brushless, self-excited 2/3 pitch (600V uses Internal excitation (IE))
Terminal box, IP22 RHS facing, bottom cable entry
Standard winding protection for non-harsh environments with relative humidity ? 95%
IP23 Protection

Governing System

Cat electronic governor (ADEM A4)

Lube System

Oil filler and dipstick
Shallow oil pan
Oil filter, spin on
Oil cooler
Lubricating oil, CK-4 (10W-30)
Oil drain with valve
Fumes disposal to front of radiator

Mounting System

Includes lifting provisions and termination points for coolant and lube oil drain lines
Captive linear vibration isolators between base and engine-generator

Protection

Safety shutoff - High water temperature
Safety shutoff - Overspeed
Safety shutoff - Low oil pressure

Starting/charging System

24V, 45 Amp Charging alternator
24-volt electric starting motor

General

Parts book
Vibration damper
Lifting eyes
Optional Equipment:
Air Inlet System

Air cleaner (Non canister disposable)

Bases, Mounting & Fuel Tanks

Audio & visual fuel alarm (@90% fuel level)
Integral tank base, 24 hours, UL142
5 Gallon Spill Containment
Overfill prevention valve
Fuel tank pill pipe & lockable cap
Wide Base - Skid

Circuit Breaker

400A LSI
Auxiliary contacts
400A LS/I
800A LSI
600A LSI
1200A LS/I
800A LS/I
600A LS/I
1200A LSI

Control System

20A GFCI (Ground Fault Circuit Interrupter)
Ground fault relay
16 -light NFPA 99/110 Annunciator
Volt free contacts
Twist release, Red button emergency stop
100A Load center
Product link remote monitoring hardware
Audible alarm Gp
Earth (Ground) fault relay
Volt free contact
Remote E-Stop button
Discrete I/O module
Annunciators box
Local annunciator

Exhaust System

8" Muffler - 25 dBA attenuation
Flexible exhaust connection
Manifold and turbocharger guards

Generator

Space heater
Permanent magnet excitation (PMG) generator

Starting System

Jacket water heater
Standard battery set: 1000 CCA, 90 amp/hr.
Battery charger (UL Certified)
Oversize battery set, 1400 CCA, 200 amp/hr

General

Extended Service Coverage
Generator test report
CSA Certification
UL2200 Certification
Tool set

Circuit Breakers

Single LSI motorised circuit breaker
Single LSI motorised circuit breaker
Auxiliary contacts
Neutral bar (208V)

Enclosures

E-Stop
Sound attenuated Level 2 enclosure (White)
AC & DC Source lights
Sound attenuated enclosure

Cooling System

Coolant heater
Stone guards
Jacket water heater with pump

Base / Fuel Tank

Audio & visual fuel alarm

Fuel System

Integral 8 hour tank base

Starting And Charging

Oversize battery set
Standard battery set
5 Amp Battery charger
Battery disconnect switch

Certifications

CSA 22.2
UL2200 Listed
Seismic

Lube System
Contact Us
Get A Quote
Thank you for your interest in Mustang Cat. We are here to help you in any way that we can. If you have a question, need equipment advice or just need additional information, we want to hear from you. You can email, phone or fill out the form below and we will be happy to connect with you.