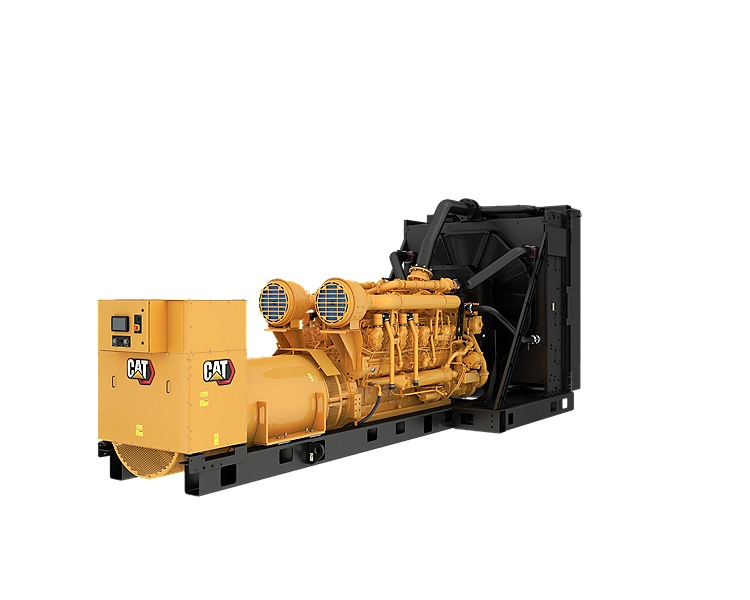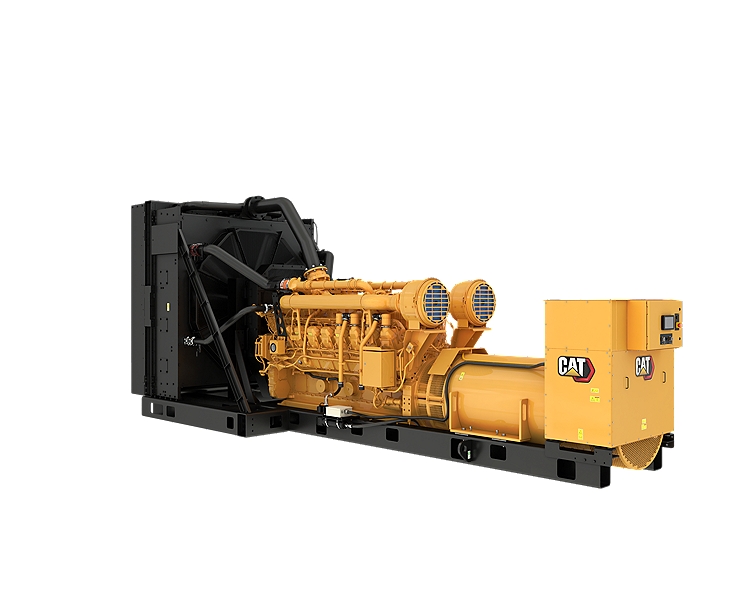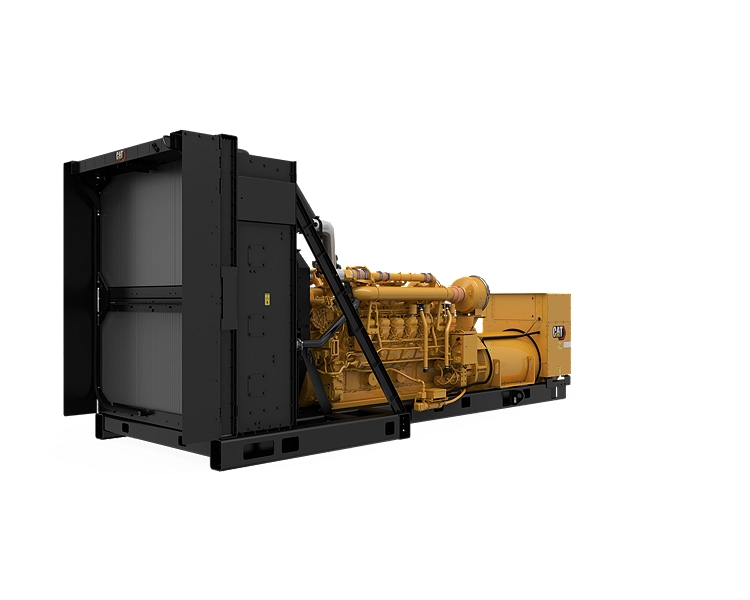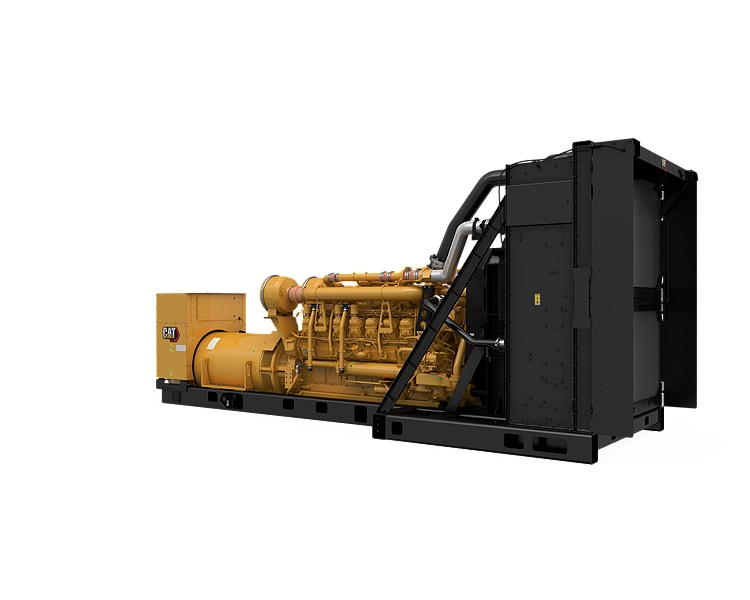 3516E Low Voltage Generator Set
Caterpillar is leading the power generation marketplace with Power Solutions engineered to deliver unmatched flexibility, expandability, reliability, and cost-effectiveness.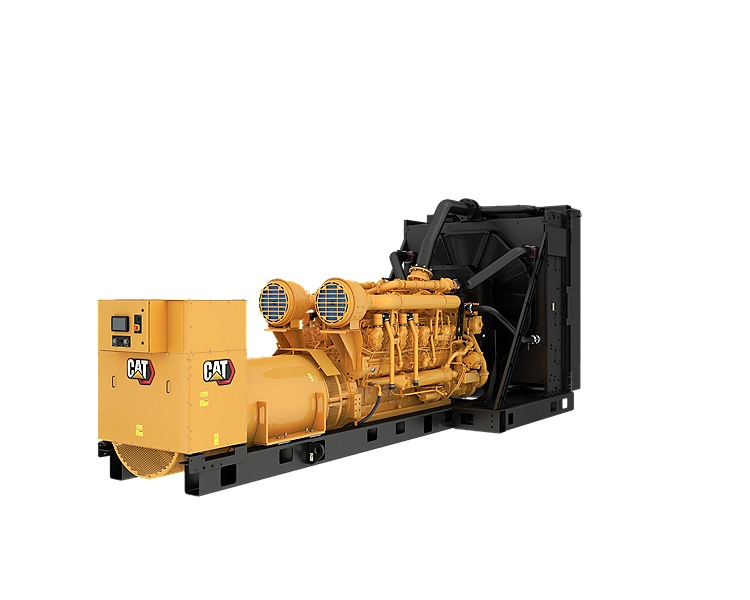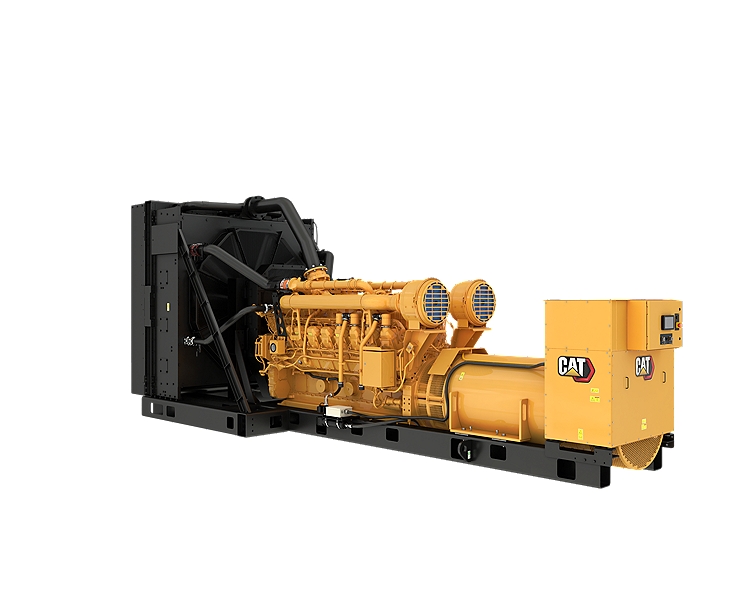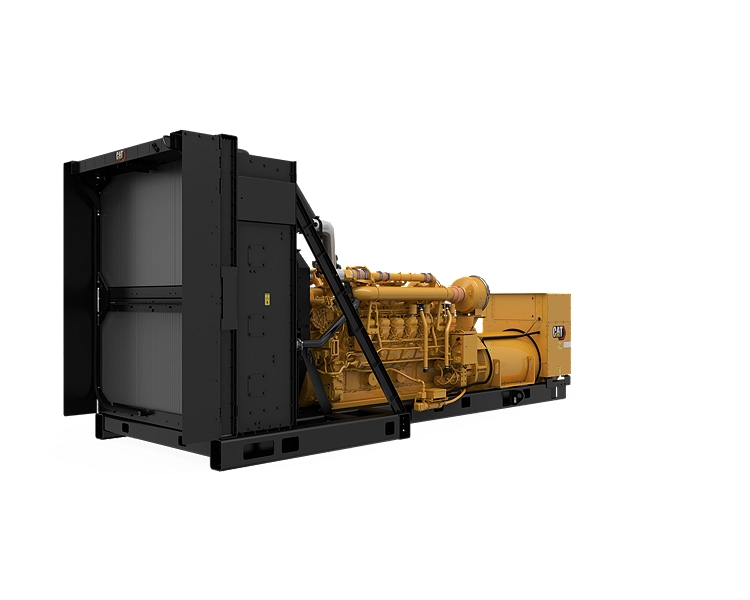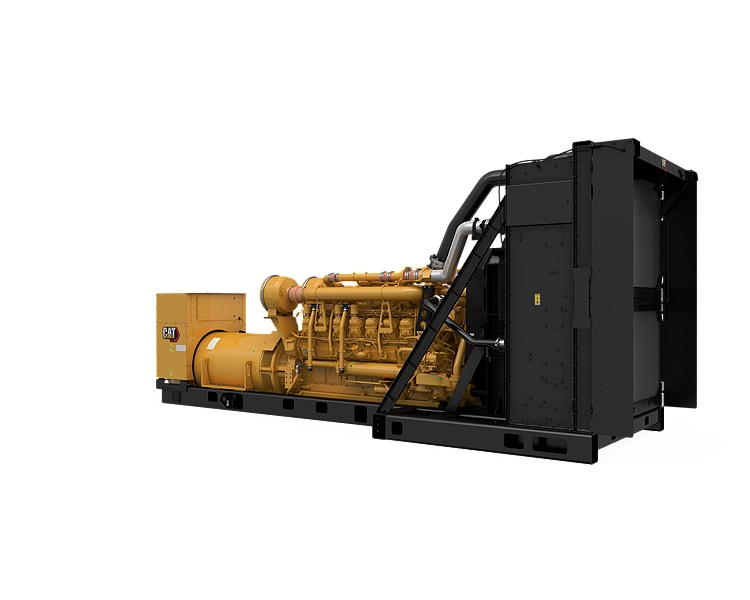 Generator Set Specifications
Standby, Mission Critical, Prime
Engine Specifications
3516E, V-16, 4-Stroke, Water-Cooled Diesel
Generator Set Dimensions
Dry Weight - Genset (maximum)
40750lb
Standard Equipment:
Air Inlet System

Single element canister type with service indicator
Air cleaner

Cooling

Exhaust

Fuel

Primary fuel filter with integral water separator
Fuel priming pump

Generator

IP23 Protection
Matched to the performance and output characteristics of Cat engines

Power Termination

Starting/charging

Heavy duty starting system
Charging alternator

Undercarriage

Control Panel

Communications:
6 Programmable digital inputs
Programmable protective relaying functions:
Low oil pressure
Environmental sealed front face
Volts (L-L & L-N)
Emergency stop pushbutton
Serial annunciator module data link
Reverse power (kW) (32)
Engine cycle crank
Lamp test
Over/under frequency (81 o/u)
kW-hr (total)
Speed adjust
True RMS AC metering, 3-phase, +/-2% accuracy
Engine cool-down timer
Overcurrent (50/51)
Reverse reactive power (kVAr) (32RV)
kW (per phase, average & percent)
kVAr-hr (total)
Generator phase sequence
Oil pressure (psi, kPa or bar)
Low coolant temperature
Amps (per phase & average)
Generator mounted - rear facing
Over/under voltage (27/59)
Low coolant level
Accessory module data link
kVAr (per phase, average & percent)
EMCP 4.2B controller includes:
Failure to start (overcrank)
2 Programmable relay outputs (Form C)
EMCP 4.2B
Overspeed
2 Programmable digital outputs
DC volts
Frequency (Hz)
High coolant temperature
Warning/shutdown with common LED indication of shutdowns for:
Operating hours
4 Programmable relay outputs (Form A)
Coolant temperature
Power factor (per phase & average)
Digital indication for:
Panel lights
Text alarm/event descriptions
Controls:
24 Volt DC operation
Alarm acknowledge
Customer data link (Modbus RTU)
kVA (per phase, average & percent)

Cooling System

Caterpillar extended life coolant
Coolant drain line with valve
Coolant level sensors
JWAC
Radiator fan and fan drive
Fan and belt guards

Exhaust System

Dry exhaust manifold
Flanged faced outlet(s)

Fuel System

Secondary fuel filters
Flexible fuel lines - shipped loose
Fuel cooler; not included with packages without radiator
Fuel priming pump

Generators And Attachments

Form wound
3 Phase brushless, Salient pole
Class H insulation, Class F temperature rise at 40C ambient (105C prime/130C standby)
Winding temperature detectors
Permanent magnet excitation (PMG)
Anti-condensation space heater
Right side extension terminal box, busbar connections, top mounted, bottom cable entry
6 Lead
NEMA standard hole pattern

Governing System

Literature

Lube System

Integral lube Oil cooler
Fumes disposal
Oil drain lines and valve
Oil filter, filler and dipstick
Lubricating oil
Gear type lube oil pump

Mounting System

Rubber anti-vibration mounts - shipped loose
Rails - engine/generator/radiator mounting

Starting / Charging System

Battery disconnect switch
45 Amp Charging alternator
Battery and battery rack w/cables
24 Volt electric starting motor

General

Flywheel and flywheel housing-SAE No. 00
SAE standard rotation
Paint - Caterpillar yellow with high gloss black rails & radiator
Right hand servicing
Optional Equipment:
Air Inlet System

Air inlet protection
Remote air inlet adapters
Dual element air cleaners
Heavy duty air cleaners

Circuit Breakers

Busbar connections
P Frame breaker connections
R Frame breaker connections
Optional busbar power connections
Circuit breaker harnesses
Masterpact breaker connections
Cable entry options
2000, 2500, 3200, 4000 Amp, 4 Pole, IEC rated Circuit breakers
2000, 2500, 3200, 4000, 5000 Amp, 3 Pole, IEC rated Circuit breakers
1600, 2000, 2500, 3000, 4000, 5000 Amp, 3 Pole, UL-100% rated Circuit breakers

Power Termination

Circuit breakers, IEC compliant

Control Panel

Customer interface options
Mounting group - External box clips
EMCP 4.3, EMCP 4.4
PC monitoring (Remote and local)
Ground
Load share module options
Annunciator modules
Auxiliary box
Language options
Remote speed adjust
Vandal proof panel door
Voltage raise/lower switch
Generator temperature monitoring

Cooling System

Expansion tanks
Optional Serpentine radiators
Water level switch gauges
Optional ATAAC radiators

Exhaust System

Flexible fittings
Elbows
Flanges and exhaust fittings
Flanges
Y Adapters
Mufflers

Fuel System

Duplex fuel filters
Primary fuel filters

Generators And Attachments

Differential current transformers - 8.7 and 15 kV class
Alternator air cleaners

Instrumentation

Pyrometer and thermocouples

Lube System

Manual prelube pump
Lube oil in standard sump
Oil level regulator
Electric prelube pumps

Mounting System

Spring type vibration isolators
IBC Seismic vibration isolators NORAD
Puck style low efficiency lsolators

Power Connections

Neutral ground connections
2700 & 3000 Frame
Grounding groups

Special Tests / Reports

IBC Certifications
Generator set test report
Torsional vibration analysis
PGS Test report @ 1.0 power factor
PGS Test report @ 0.8 power factor
Standard engine test charge
Fuel consumption test
Generator set consumption test

Starting / Charging System

Starter cover
Electric starting motors
Air pressure regulator
24 Volt battery set - Dry
Jacket water heaters
Engine barring group
10, 20, 35 and 50 Amp Battery chargers
Air starting motors

General

Special paint colors
US aid emblem
Contact Us
Get A Quote
Thank you for your interest in Mustang Cat. We are here to help you in any way that we can. If you have a question, need equipment advice or just need additional information, we want to hear from you. You can email, phone or fill out the form below and we will be happy to connect with you.