IMPROVING QUALITY OF LIFE
SUSTAINABILITY AT WORK
Our longstanding commitment to sustainability inspires us to improve the quality of the environment and the communities where we live and work and provide products and services that help our customers fulfill society's basic needs—such as shelter, clean water, sanitation, food and reliable power—in a sustainable way. We strive for economic growth through infrastructure and energy development while providing solutions that support communities and protect the planet.
---
MUSTANG INITIATIVES
Environmental, Social, and Governance
Environmental Initiatives
Safety Values
Learning Council & Mustang Learning Center
Scholarship Program
Servant Leadership
Social Initiatives
Community Engagement
Day of Service
Tier 4 DGB
---

CUSTOMER HIGHLIGHT 
VoltaGrid 
Companies must create low-cost, low-carbon, low-emission strategies with emerging technologies to achieve sustainable Environmental, Social, and Governance (ESG) goals and be competitive in a global marketplace. Due to ESG and electric frac (E-frac) efforts in the oil and gas market, dual fuel (diesel/ natural gas) and, for the first time, 100% natural gas reciprocating generator sets have emerged. The 3520-generator set had mainly been seen in the Electric Power Generation (EPG) market for data centers, office buildings, etc., but Caterpillar Inc. has successfully developed an EPA, non-road mobile certified unit that is taking the world by storm. Mustang Cat's relationship with Houston-based VoltaGrid allowed for a partnership from inception of the idea.
Stewart & Stevenson, a manufacturing and distributing company, and Halliburton, an oilfield services corporation, have worked alongside Mustang to test, deliver, and operate VoltaGrid's initial 10-unit pad site in Pennsylvania. Mustang Cat's 3520's significant performance, support, cost advantage, products, and efficiency model have garnered an 80-unit order from VoltaGrid. To put it in the words of our General Sales Manager of Exploration, Mark Reed, "This is the TH-55 of the E-frac world! It's been exciting to be a part of it because it is… ground-breaking." Mark's team at Mustang has been an integral piece of their success. Each one of his salesmen has the technical capacity to physically ensure customer success; so much so that Petroleum Sales Representative, Randy King, and Mark Reed went to Pennsylvania for ten days, addressing and repairing start up and operational issues, circumventing future mishaps, answering functionality questions, and training personnel to operate and control the industry's newest low-emission, ESG-friendly, 100% natural gas generator solution.
---

MUSTANG VALUES 
Safety Values.
I recently had a conversation with a group of managers when a question was posed to each of us – which of our corporate values is most important? We all agreed that one is most important above all, Work Safe. None of the business results produced by Mustang is more important than the physical safety of our
employees, partners, and customers. We have taken extraordinary steps and made significant progress in the last three years. We all agree that Mustang is a safer place to work because of these efforts. While this progress has been outstanding, much of this has been achieved at the individual level. We have more work to do, together. Prevention is the best remedy for safety concerns, and we have dedicated resources focused accordingly every day. Additionally, we measure safety through closely studying all accidents and close calls. As these data points are studied, we have developed an understanding about what may contribute to future safety incidents, allowing us to anticipate potential areas of concern and prevent accidents. One correlation of note is the number of safety incidents that involve our newer employees – an area that will be emphasized in the future. Through my almost 30 years with the company, I know that Mustangers have emphasized safety – but not necessarily a collaboration by all employees to take an active role in the safety of all their team members. From now on, Work Safe will be defined beyond each of us as individuals. Now we are asking everyone to be actively working for everyone's safety. This includes, not only our longtime employees watching and coaching new employees, but an openness by our experienced employees to being cautioned by any team member in the name of safety. With so much at stake, I know this demonstration of Servant Leadership will be embraced and received by every employee. – our most impactful value to our business success is Work Together. Mustang is at its best for our customers, partners, and employees when we work across the organization. If we are to achieve our safety goal of Everyone… Safely Home, Every Day, we must combine these two values and Work Safe – Together. 
– Todd Fisk, Mustang Cat CEO
---

MUSTANG VALUES 
Learning Council
The Learning Council was formed in 2017 as part of Mustang's commitment to its employees and to their continuous development. The Council is comprised of senior and executive stakeholders from a diverse cross-section of Mustang's business.  The purpose of the Learning Council is to advocate for, champion and support Mustang's training and development efforts. They help ensure organizational challenges and learning gaps are brought to the table in a timely manner, discussed and addressed through inclusive, strategic, sustainable solutions that consider diverse perspectives and wide-ranging experiences. There are many courses available through the Mustang Learning Center focusing on topics such as mental health, maintaining healthy habits at work, financial wellness, and many more; all are available to help in your personal and professional lives.
---
                                                                              Scholarship Program 
Mustang Cat is now in its tenth year of offering a Scholarship Program For Children of Employees, who plan to attend a 2 or 4 year college of vocational/technical school. For the 2022-23 academic year, Mustang will pay out up to $60,000. Mustang Cat is also a longtime supporter of the Automotive Youth Educational Systems (AYES) Program, providing Technician on-the-job training opportunities to local high school students, and the Caterpillar THINK BIG Program, sponsoring Technician Associate Degrees from Oklahoma State University Institute of Technology (OSUIT). Mustang Cat offers a Power Machinery Management Degree Concentration at Sam Houston State University. The Company offers internships and maintains strong relationships with Southeast Texas high schools, colleges, and technical schools as a committed partner in developing the next generation.
---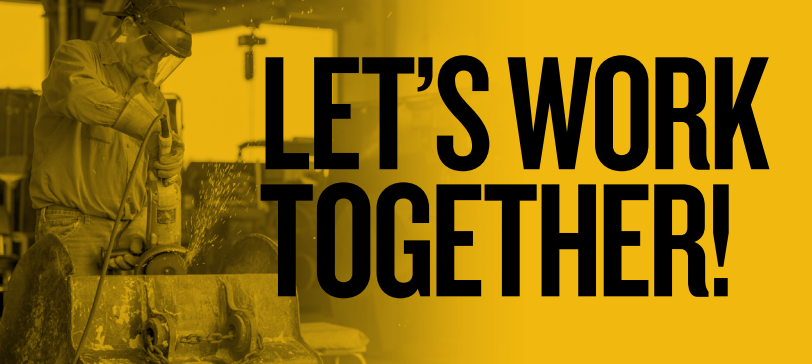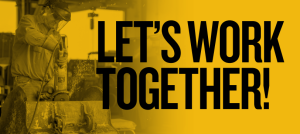 SOCIAL INITIATIVES
Community Outreach
Since the company was founded in 1952 as the Caterpillar dealer for Southeast Texas, Mustang Cat has committed itself to enriching Greater Houston and Southeast Texas through continuous corporate involvement and charitable contributions. Through the years, much of these good works were administered by Human Resources, Marketing, and Mustang Rental Services. However, as these programs continued to grow, Mustang moved that responsibility to a new role in the company, Director of Community Outreach, to oversee involvement and provide administration of the Grants, Scholarships, Gifts in Kind, and Community Outreach programs. One of the Director's first tasks was to bring some structure to Mustang Cat's Equipment Gifts in Kind program. Another priority was to collaborate with Marketing on developing and maintaining an intranet and internet website section that communicates the Foundation's mission, program areas, and impact in local communities. 
---

SOCIAL INITIATIVES
In Kind Giving
The Mustang Cat Gifts In Kind Program supports nonprofit organizations and customer fundraiser events for special needs, as well as bringing immediate relief in times of local disasters to businesses and communities across Southeast Texas. In Kind donations include product, other non-cash gifts (used office furniture and equipment, novelties, etc.), and pro-bono services that share the company's leadership expertise with the local social sector. Mustang Cat strives to be a driver for social change in our communities by demonstrating our corporate values of Work Together, Work Honest, Work Smart, and Work Safe. 
---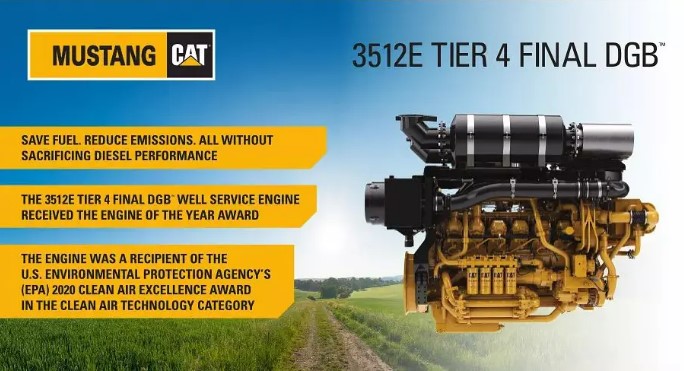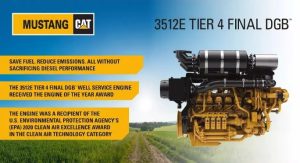 WHAT IS DYNAMIC GAS BLENDING (DGB)?
Tier 4 DGB
Dynamic Gas Blending engines can utilize both natural gas and diesel fuel to power an application depending on which is available, lowering their total cost of ownership. In an oil and gas well service operation, customers can capture gas that would otherwise be expelled from the operation into the atmosphere and use it to fuel the engine. When gas is not available, diesel fuel can be used. This innovative dual-fuel technology enables the engine to automatically maximize the amount of natural gas used to displace diesel and offers the industry's best diesel displacement rate of up to 85%.
This means an engine that burns 100 gallons of diesel an hour in 100% diesel mode can burn as little as 15 gallons an hour in dual-fuel mode. It's also the only DGB engine in the industry available with automatic start-stop technology that can cut nonproductive idle time by 60% and fuel consumption by 8.5%. The 3512E Tier 4 Final DGB engine can help customers reduce their diesel consumption and greenhouse gas (GHG) emissions while maintaining the power, performance, reliability and ease of maintenance and packaging they expect from Cat diesel engines.