Service Information System (SIS 2.0) 
We are pleased to announce the availability of Service Information System (SIS) 2.0 for Caterpillar customers. Caterpillar partnered with its worldwide dealer network to develop a technical information platform to replace SIS Web. SIS 2.0 is an innovative, cloud-based solution that builds upon the same legendary data model and will deliver Caterpillar parts and service information to virtually any device. Paired with a modern, mobile-friendly search and navigation experience, SIS 2.0 empowers new and experienced users to find whatever they need with fewer clicks.
Benefits of Using Sis 2.0
It's SIMPLE: No more plugins, updates, or configurations to manage. You can access all the parts and service information you need from any computer, phone, or tablet.
It's INTUITIVE: SIS 2.0 has an intuitive interface that is easy to learn. Compared to the legacy SIS Web, the learning curve is significantly reduced. With little to no training, users will be up and running quickly and easily.
It's EFFICIENT: With SIS 2.0, you can find all the parts and service information you need, but much quicker and easier than in the past. You'll spend less time searching and more time doing the work.
Next Steps – Your migration to SIS 2.0: Our dealership will be in contact with you over the coming weeks to help you plan your migration to SIS 2.0. While you will find SIS 2.0 intuitive and simple to use, we will provide you with user guides and training materials to ensure you are up and running in no time.
Please note: All customers must migrate to SIS 2.0 by May 14, 2021, as SIS Web will no longer be accessible.
We are excited about all the benefits you will experience with SIS 2.0 and look forward to working with you to ensure your migration is smooth.
Cat® Service Information System (SIS) Upgraded to 2.0
Cat® Service Information System (SIS) is the electronic service tool that covers all information for Cat products from 1977 to today. With 2 million service graphics, 1.5 million parts numbers, and 44,000 parts/service documents, this tool is the equivalent of over 25,000 books, accessible a mouse click away! From SIS, you can identify and add parts to a SIS shopping cart, then bring your cart over to Parts.cat.com when you are ready to order and check out.
Caterpillar has now released the new SIS 2.0, with enhanced search features, seamless navigation across parts, and a new look and feel that is mobile-friendly. Available in 10 languages, give it a try by clicking on "SIS" in the top menu of the Parts.cat.com homepage.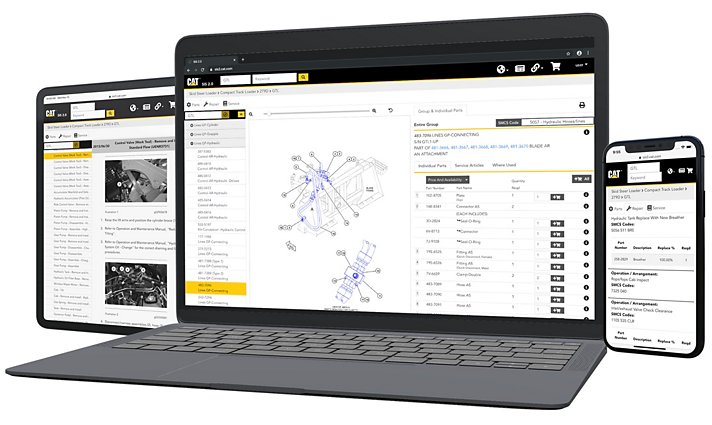 New SIS 2.0 Features
Many enhancements have made SIS 2.0 simple to access, intuitive to use, and more efficient so you can get the job done faster.
Responsive cloud-based design allows you to log in from any device, giving you the parts and service information at your fingertips, when you need it.
No more plugins, updates, or configurations required.
Access all content from a PC, phone, or tablet.
Find information faster: 50% fewer clicks to find the same parts and service information with 24% shorter sessions on average!
You'll find SIS 2.0 available in Chinese (Simplified), English, French, German, Indonesian, Italian, Japanese, Portuguese, Russian, and Spanish.