When only the most rugged and dependable solutions will do, industrial diesel engines by Caterpillar® are ready to work for you. Mustang Cat offers a complete selection of Cat industrial engines for sale. Call us today, our team will give you the product knowledge and technical expertise your operation requires.
Caterpillar Industrial Engines in Southeast Texas
Caterpillar calls on over 90 years of manufacturing innovation and excellence to deliver a lineup of new industrial engines that set the standard for power, performance, and reliability. Caterpillar industrial engines offer the flexibility to configure to virtually any machine and come in options for meeting different regulatory requirements.
From agricultural tractors, material handling, and earthmoving equipment to irrigation, industrial, mining, and pump applications, there is a Cat engine that meets your specifications. The models in our inventory are built to provide lasting durability with minimal maintenance requirements.
Caterpillar Industrial Engines Benefits
Additional reasons to choose new engines from Caterpillar include: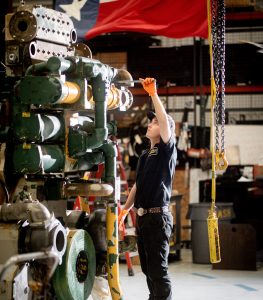 Exceptional power with improved fuel efficiency
Reduced emissions to meet strict EPA regulations
Options in advanced equipment monitoring technologies
Excellent standard warranty and extended coverage options
Our Selection of Industrial Engines from Caterpillar
We are home to a complete inventory of Cat industrial engines for sale throughout Southeast Texas. As the authorized Cat dealer for Houston and the surrounding areas, we offer a full range of electrical power solutions for your industrial applications.
Equipment types include:
Highly regulated industrial diesel engines with advanced technology to provide the power you need while meeting strict Tier 4 Regulations
Lesser regulated and non-regulated industrial engines offer exceptional versatility in just about any industry or environment
Highly regulated power units for irrigation, industrial, mining, and additional pump applications
Regulated and non-regulated industrial power units delivering dependable performance in rugged industries and job sites
Highly and lesser regulated fire pumps offer reliable starts and extended peak service life
We also carry a variety of Cat natural gas engines and other power generation equipment.
Mustang Cat is The Way to Go for Cat Industrial Generators & More
We are a family-owned Cat dealer providing quality products and services to a broad range of customers since 1952. We focus on delivering solutions that help you get the job done efficiently. From new power system sales and used and rental options to complete parts, services, and repairs, we offer everything you need to grow your business.
When you partner with us for Cat engines and other power system solutions, you benefit from:
The latest equipment and technology from the Caterpillar brand
Competitive prices and free, no-obligation quotes
Leases, financing, and additional purchasing options
For more information on our selection of diesel engines, contact us  or give us a call to speak with a knowledgeable representative.