The Great Payback Event
From now through March 2023, take advantage of this special offer on select new Cat® machines. Along with a Mustang Cat Customer Value Agreement, you can choose from two great options: Fuel Payback credit for the first 1500 hours or 24 months of fuel at $ 3.65 per gallon or 5.99% financing for 48 months.*
Qualifying Machines: Below is a list of Cat machine models for this Program.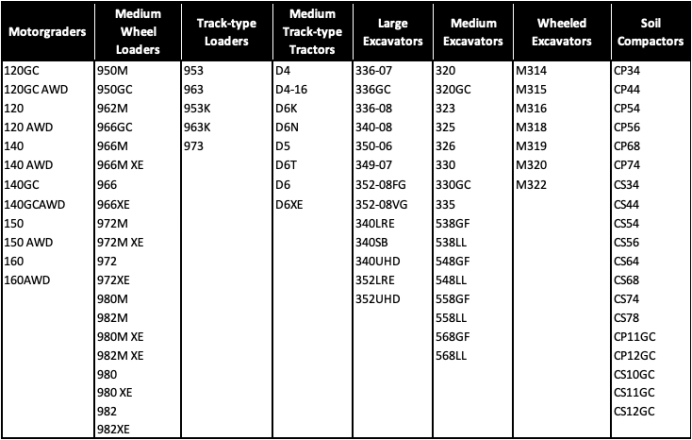 How the Fuel Program Works:
When a customer purchases a new qualified Cat® Machine with active Cat® Product Link™ and enrolls into the Fuel Program, they become eligible to receive parts, service, and rental credit through a Cat Prepaid credit.
The amount credited per customer is contingent upon the enrolled machine's run time fuel consumption (up to a maximum of 1.5 x the published run time fuel level by model) over 1,500 hours or two years. Customers will receive a $3.65US/gallon credit for all models. An enrolled machine is eligible to receive credit payment for up to 2 years or 1,500 hours, whichever occurs first, from the date of sale. Cat Prepaid credits will be awarded four times a year up to 1,500 hours or the 2-year mark from the date of sale for any amounts due under the Program. Customers will register and monitor their machines via https://my.cat.comportal under Fuel Program.
*Offer valid from January 1, 2023 – March 31, 2023, on select new medium and large Cat® machines sold by participating Cat dealers to customers in the USA or Canada. Purchase must occur during the offer period. Offer subject to machine availability and credit approval by Cat Financial. Not all customers will qualify. The offeredCat® Customer Value Agreement (CVA) includes six maintenance parts kits; S∙O∙SSM; and 36 mo Vision LinkTMDaily. The maintenance parts cover the first 3,000 hours^ (estimated three years) of machine utilization. The kit contains one set of parts for regular planned maintenance under normal operating conditions. In some severe applications where maintenance parts need to be replaced more frequently, additional parts will be at the customer's expense. Offer excludes additional maintenance parts, dealer labor, wear parts, and fluids. The offer also includes a36 month/5000-hour (whichever occurs first) Powertrain, Hydraulics, and Technology Equipment Protection Plan(EPP). In some areas, EPP might be sold separately from the CVA. Offer may change without prior notice and can not be combined with any other offers. Additional terms and conditions may apply. Contact your Cat dealer
for details