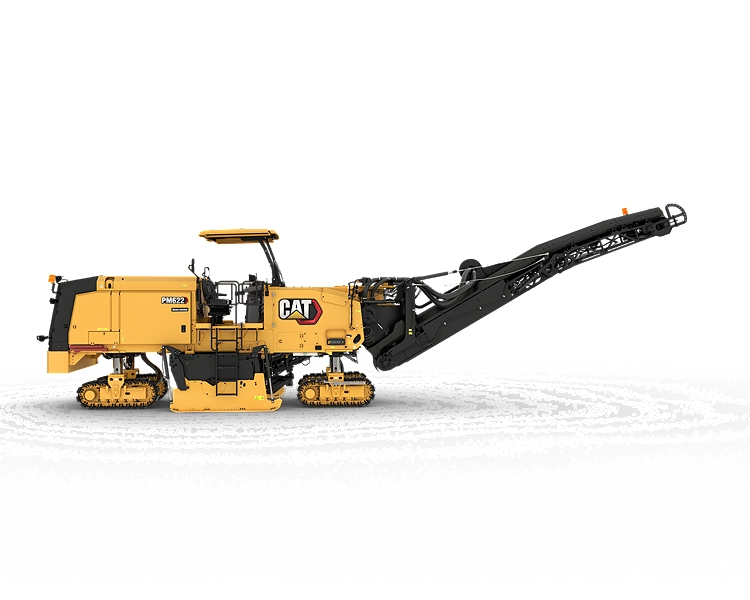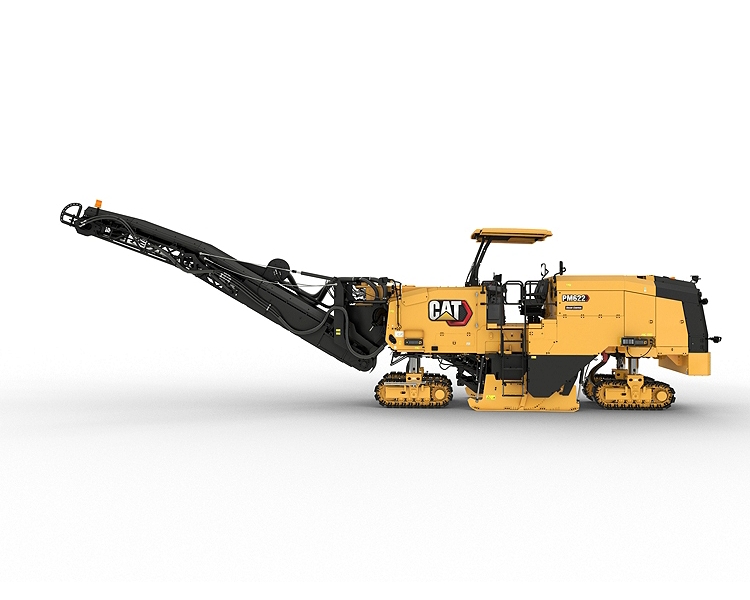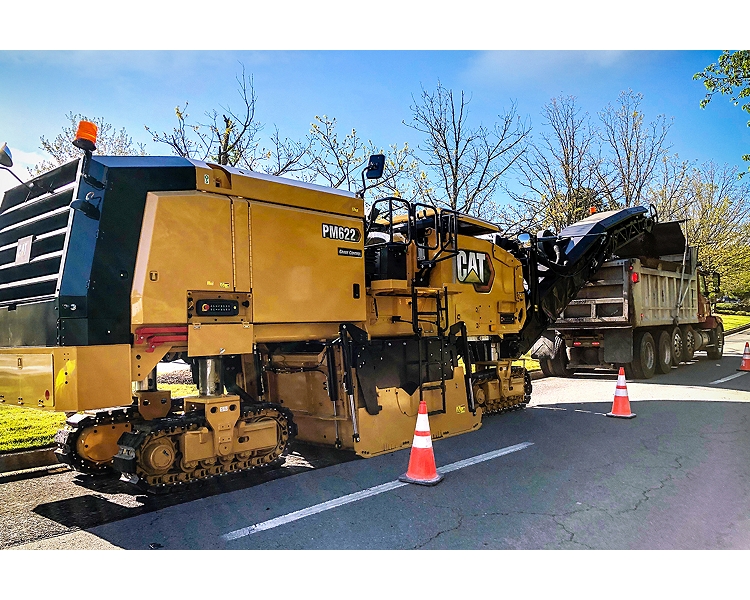 PM622 Cold Planer
The PM622 is a high-production, half-lane milling machine with a cutting width of 2235 mm (88 in) that performs controlled full-depth removal of asphalt and concrete pavements in a single pass.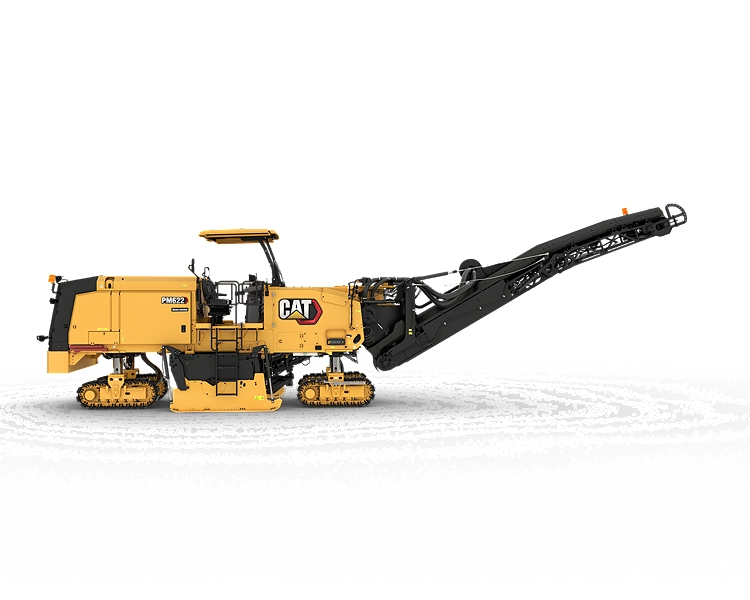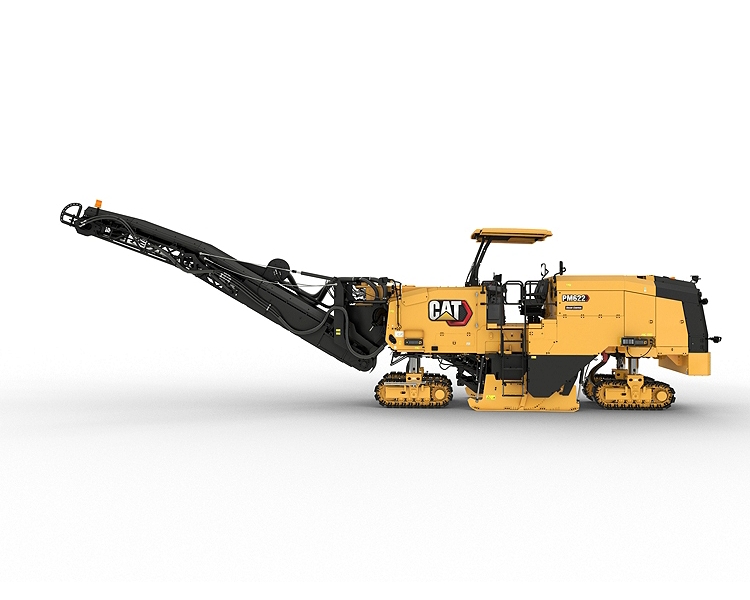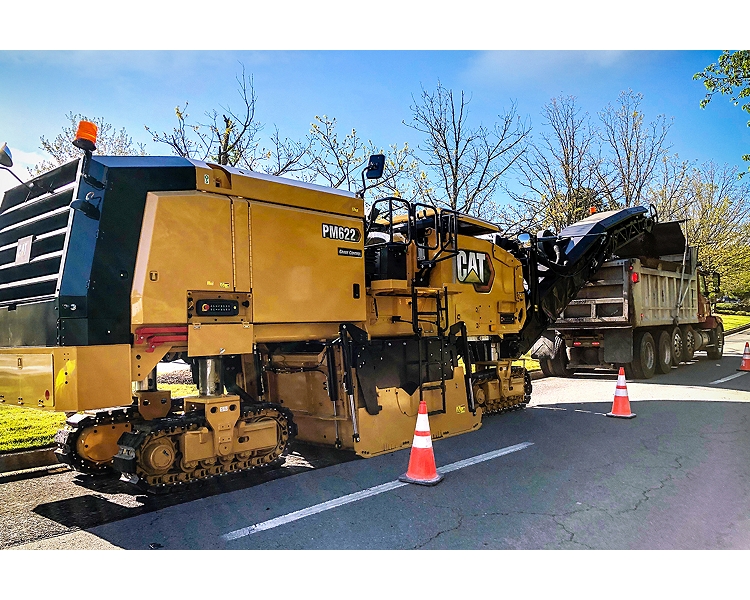 Cutting System
Power Train
Weights
Dimensions
Operating Length - Conveyor Up
47.64ft
Minimum Right Cutting Radius
5.91ft
Minimum Left Cutting Radius
6.56ft
Service Refill Capacities
Diesel Exhaust Fluid (DEF) Tank
12.4gal (US)
Standard Equipment:
Operator Environment

Ground control keypads
Single high-resolution LCD touchscreen display
12-volt power receptacle

Cat Connect Technology

Cat Product Link
Cat GRADE

Conveyor

Grease tensioner
Material removal boost feature

Rotor System

Automatic plunge-cut
Automatic transition feature
Obstacle jump
Three cutting speeds

Powertrain

Auto engine idle control
High capacity cooling system
Dual propel pumps
Automatic load control

Hydraulic System

Dual pump hydraulic propel system
Traction control

Service And Maintenance

Sampling ports for Scheduled Oil Sampling (S·O·S℠)
Power hood
Platform-level engine oil dipsticks
Rotor chamber water spray system
Air compressor
Accessory drive system
3400 L (898 gal) onboard water tank
Side water fill valve

Safety And Security

Platform handrails
Signaling/warning horn
Wide-dispersion LED work lights
Optional Equipment:
Operator Environment

Dual high-resolution LCD touchscreen displays
Hydraulically folding canopy with LEDs
Air-ride suspension seats
Windscreens

Cat Connect Technology

Inboard ski
Sonic sensor (averaging or string line)
Ground level grade controls and displays

Conveyor

Dust abatement system
Remote camera (loading conveyor)

Rotor System

System K Rotor - Course (25 mm)
System K Rotor - Course (18 mm)
System K Rotor - Standard (15 mm)
System K Rotor - Fine (10 mm)
System K Rotor - Fine (8 mm)
System K Rotor - Micro (6 mm)
System H Rotor - Micro (6x2 mm)
Diamond bits
Bit bucket trays
Pneumatic bit removal tool
Tool holder extractor
Rotor turning device with pendant control

Powertrain

Hydraulic System

Water tank transfer pump
Fuel transfer pump

Service And Maintenance

High pressure washdown
Low pressure washdown
Additional spray bars

Safety And Security

Perimeter LED strip lights
Magnetic LED work light
Warning beacon (fixed or magnetic mount)
Truck signal lights
Remote camera (rear, front, magnetic mount)
Contact Us
Get A Quote
Thank you for your interest in Mustang Cat. We are here to help you in any way that we can. If you have a question, need equipment advice or just need additional information, we want to hear from you. You can email, phone or fill out the form below and we will be happy to connect with you.