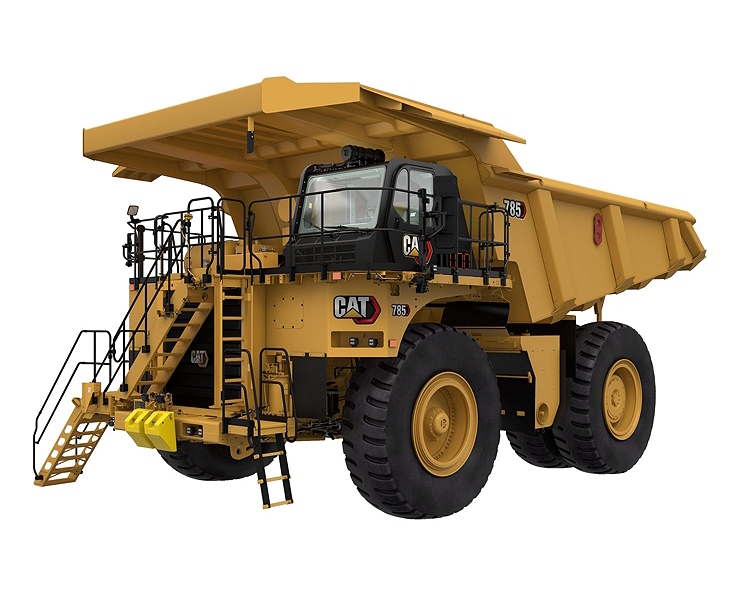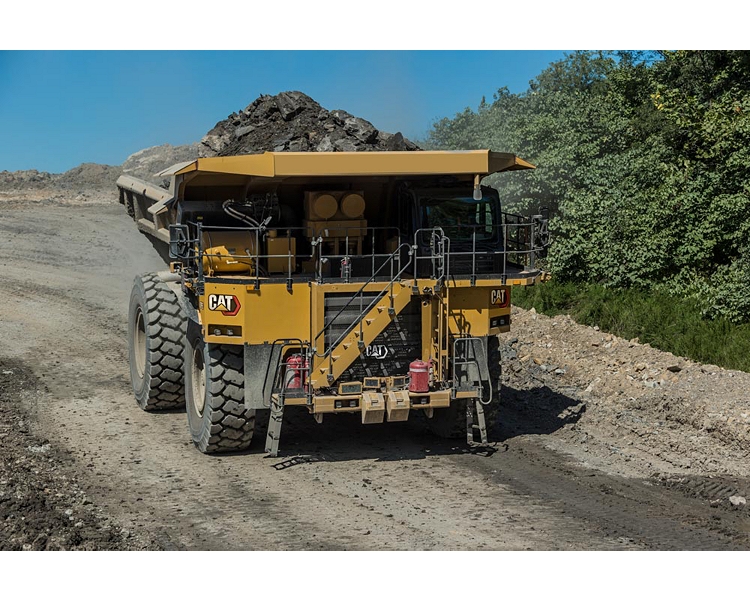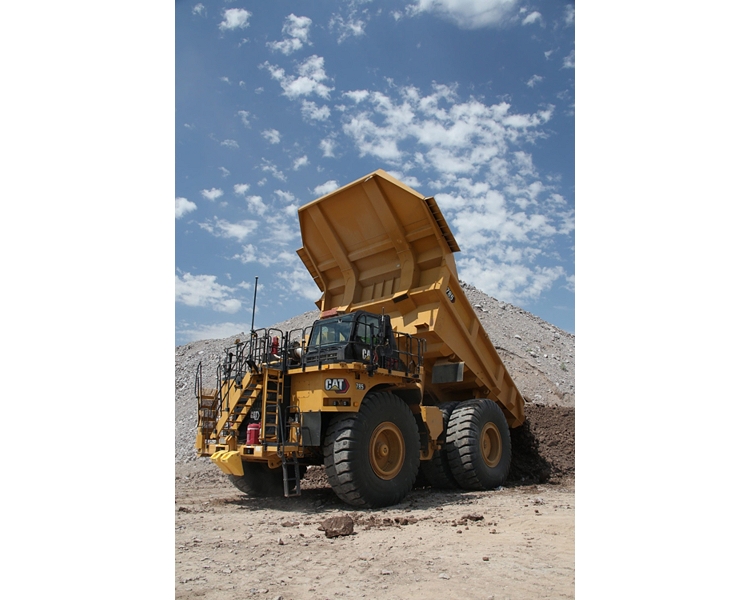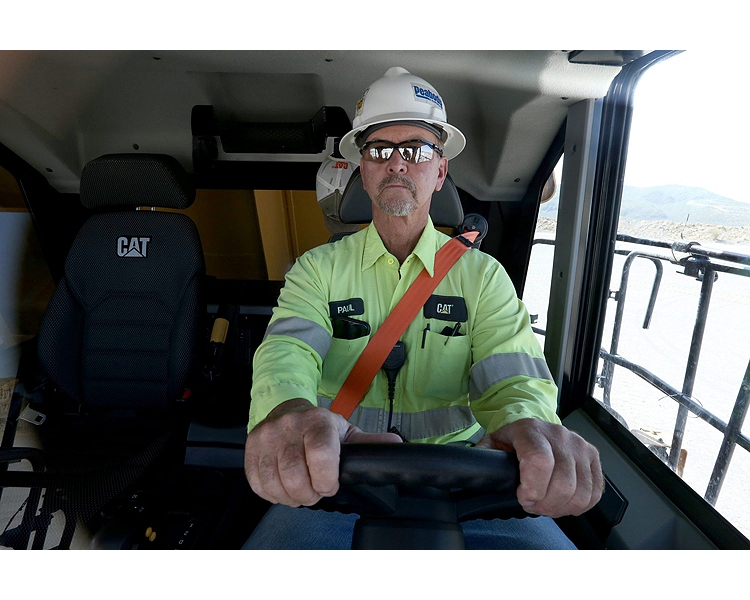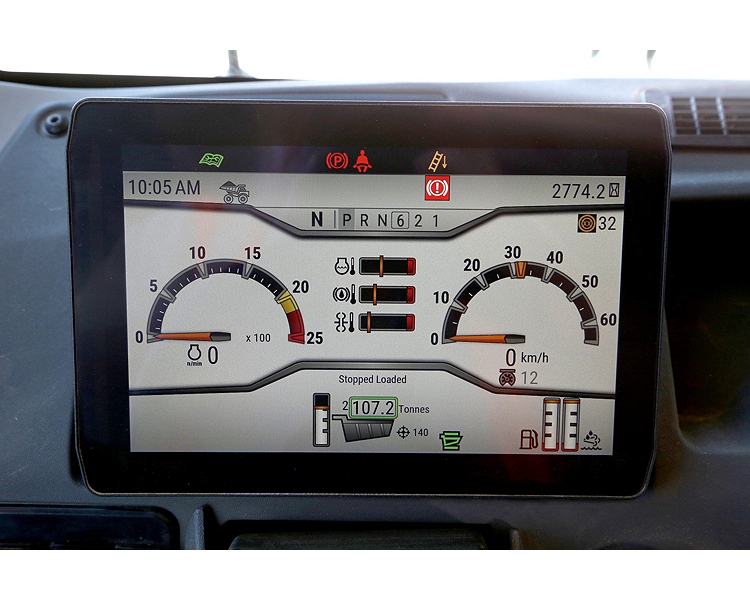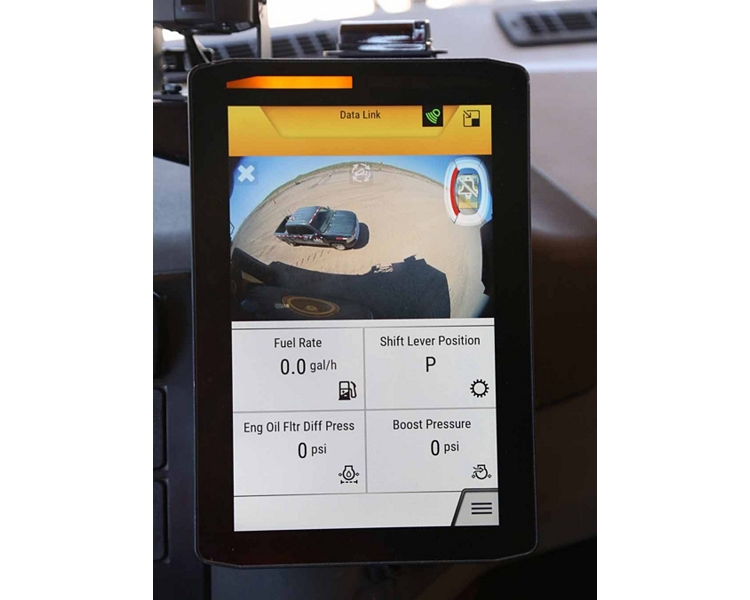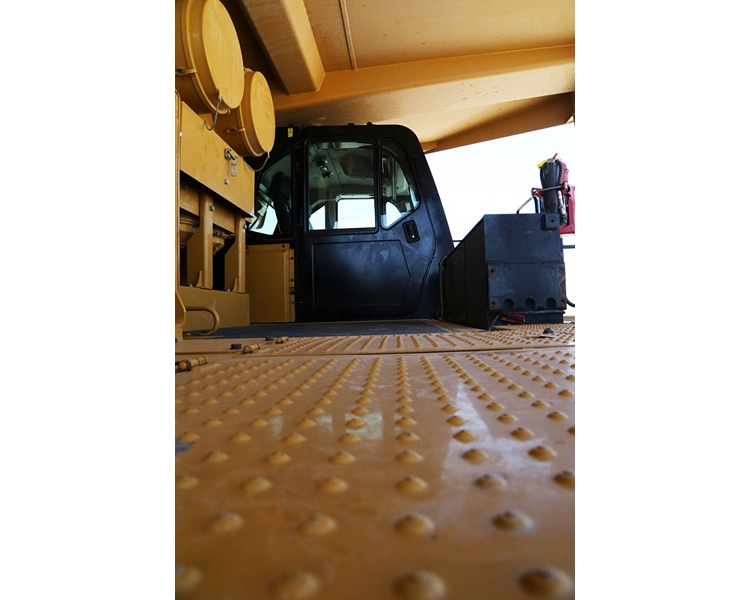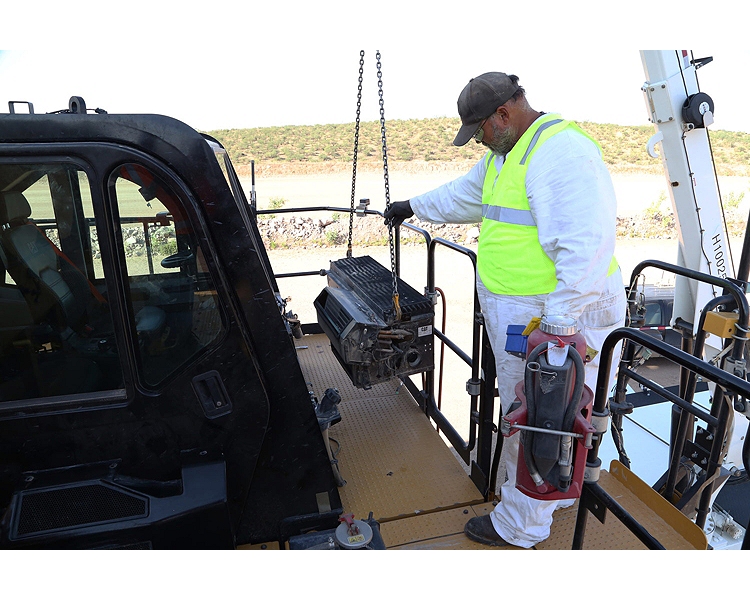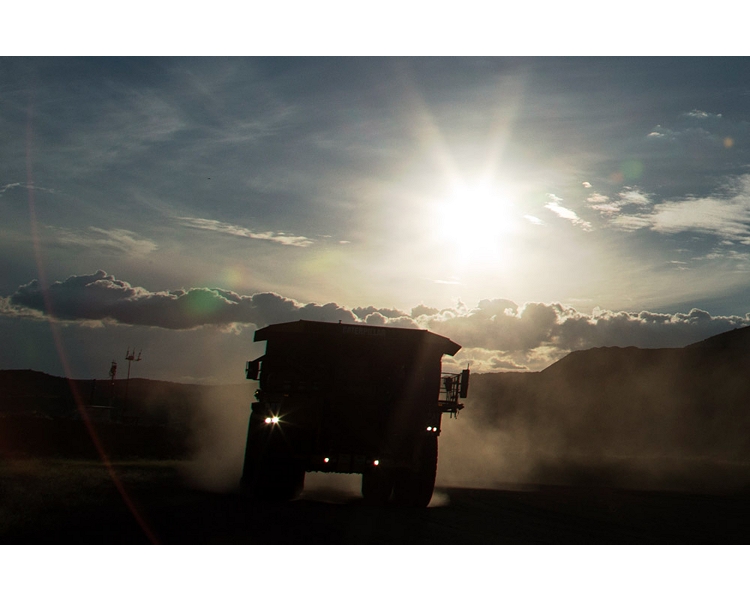 785 Mining Truck (LRC, Tier 4 Final / EU Stage V)
The 785 Large Mining Truck was Caterpillar's first entry into the mining industry more than three decades ago and has been a proven performer on sites around the world ever since. And now it's the first to combine a game-changing level of efficiency with industry-leading physical availability to deliver the next generation of productive hauling. It all starts with the operator, who sits in a state-of-the-art environment designed for efficiency and equipped with features that increase comfort, automate functions, provide real-time information and boost confidence. The 785 also delivers significant improvements in serviceability and reliability, enhanced connectivity and easier technology integration. These improvements — and more — take an already proven truck to the next level of productivity.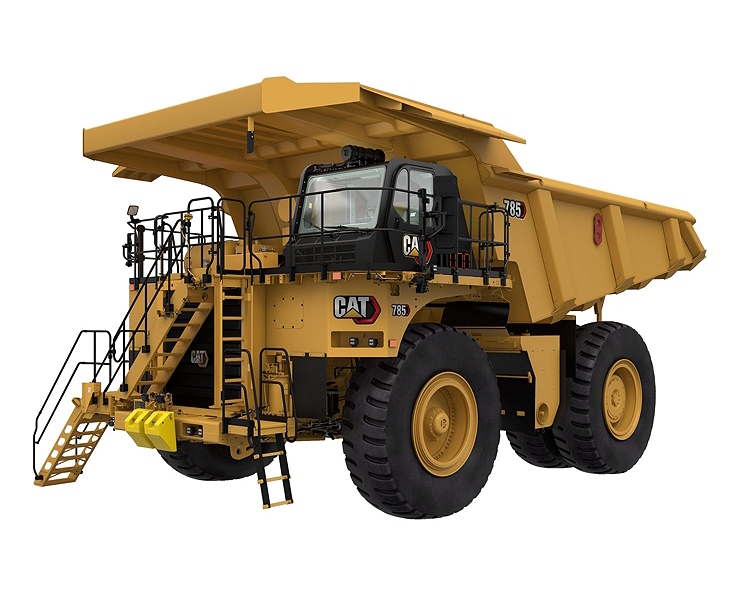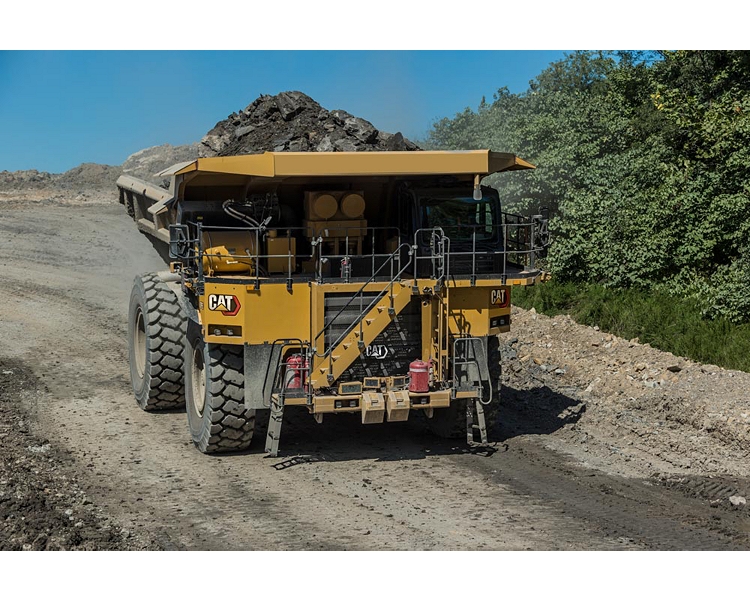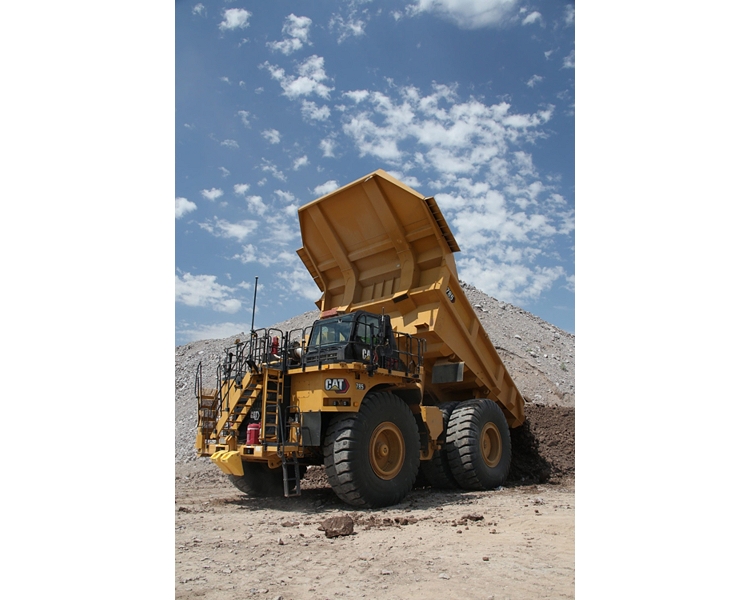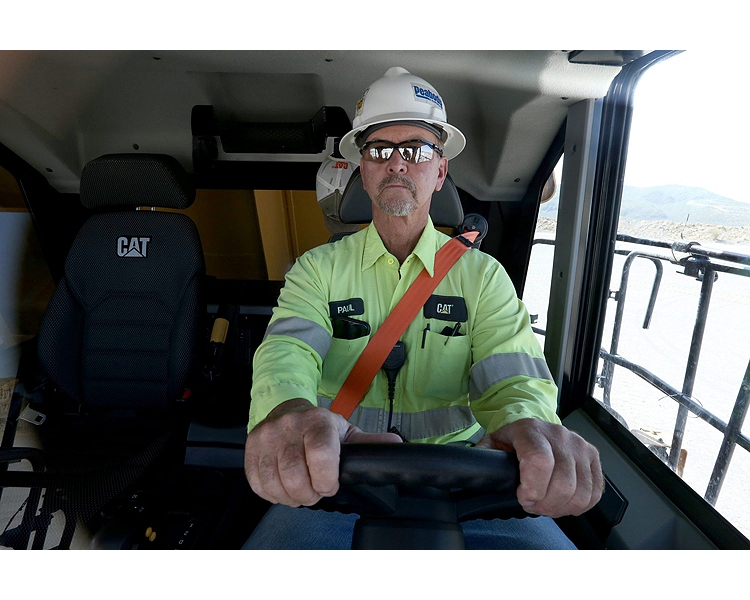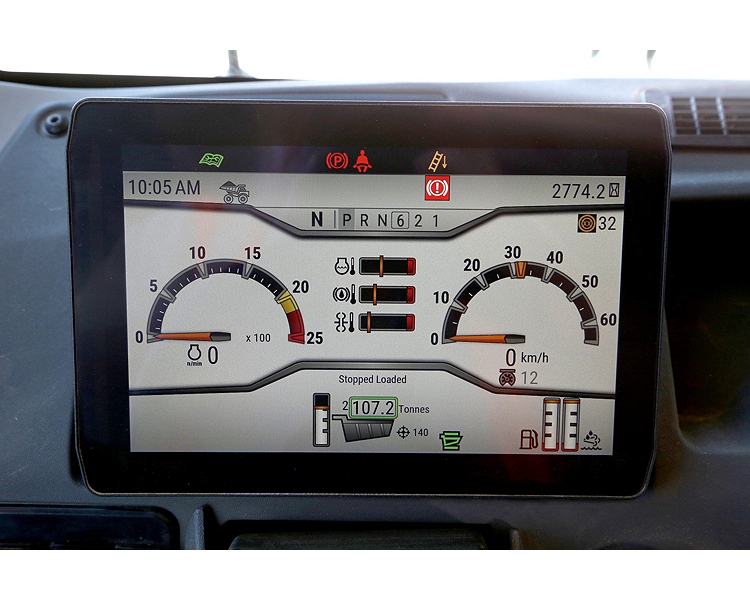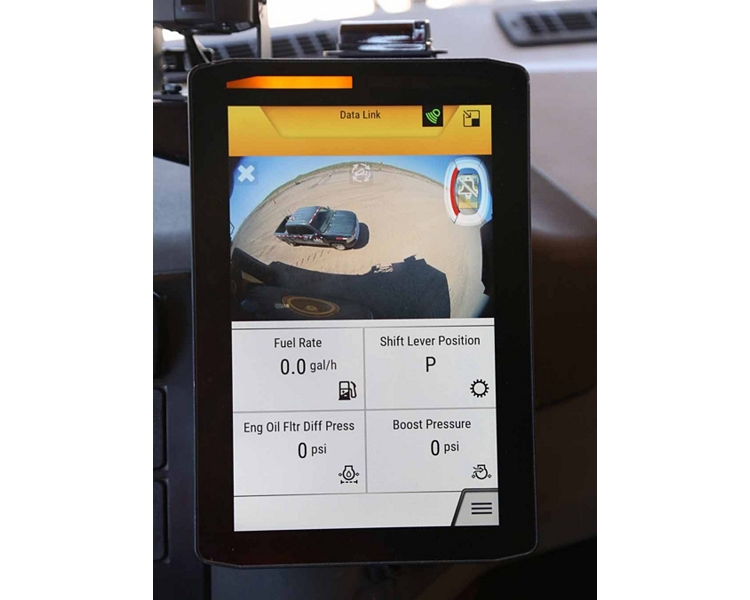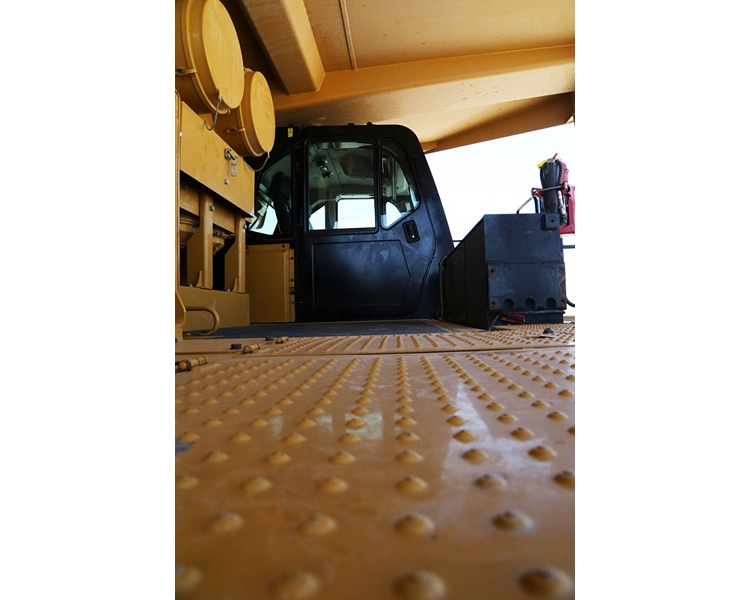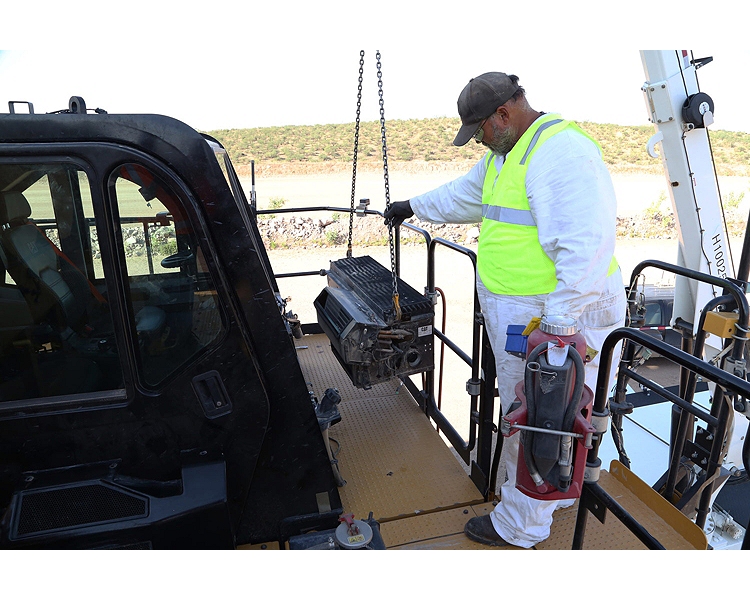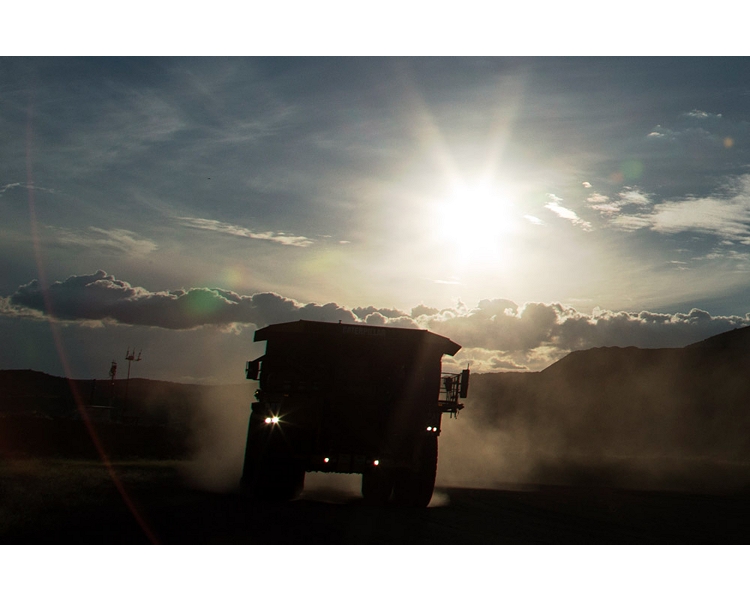 Weights - Approximate
Nominal Rated Payload (33.00R51 Tires)
153ton (US)
Rated Gross Machine Weight (33.00R51 tires)
550000lb
Nominal Rated Payload (36.00R51 Tires)
157ton (US)
Rated Gross Machine Weight (36.00R51 tires)
564000lb
Chassis Weight (33.00R51 Tires)
186799lb
Chassis Weight (36.00R51 Tires)
193192lb
Consult your tire manufacturer for maximum tire load
Chassis weight with full fuel and fluids, standard & mandatory attachments, hoist, body mounting group, rims, and tires.
Body weight varies depending on body selection and configuration.
Engine
Net Power advertised is the power available at the flywheel when the engine is equipped with air intake system, exhaust system, and alternator.
U.S. EPA Tier 4 Final / EU Stage V available for applicable markets.
Additional fuel optimized selectable power ratings: 1,450 hp
Weight Distributions - Approximate
Weight distributions optimized with Cat body.
Final Drives
Double reduction, planetary with full floating axles.
Tires
610 mm (24") Rims (standard). 660 mm (26") Rims (optional).
Quick Change Rims optional.
Caterpillar recommends the customer evaluate all job conditions and consult tire manufacturer for proper tire selection and TKPH (TMPH) capabilities.
Braking System
Four-Corner, Wet Disc, Oil Cooled, Hydraulically Actuated
Front Wet Disc Brake Surface Area
9487in²
Rear - Wet Disc Brake Surface Area
13908in²
Service and Secondary: ISO 3450:2011
Four corner, multi disc, spring applied, hydraulically released
Capacity - MSD II - 100% Fill Factor
Consult your local Cat dealer for body recommendations.
Body Hoists
Twin, two-stage hydraulic cylinders with snubbing valve.
Relief Valve Setting - Raise
2500psi
Body Raise Time - High Idle
15.2s
Body Lower Time - Float High Idle
15.9s
Body Lower Time - Float Low Idle
16.2s
Body Power Down- High Idle
15.9s
Suspension
Self-contained nitrogen/oil cylinders, pin-to-pin mounting, top & bottom double shear clevis attachments
Effective Cylinder Stroke - Front
12.6in
Effective Cylinder Stroke - Rear
6.5in
Service Refill Capacities
Diesel Exhaust Fluid Tank
36gal (US)
Differential - Final Drives
139gal (US)
Steering System - Includes Tank
45gal (US)
Brake Hoist System - Includes Tank
160gal (US)
Torque Converter - Transmission System - Including Sump
46gal (US)
Cab
HFC - 134A refrigerant: 24,500 Btu/h
The operator sound pressure level, 77 dB(A) with direct drive and 75 dB9A) with optional clutch, tested to ISO 6396:2008.
ROPS (Rollover Protective Structure) meets ISO 3471:2008 for Operator and ISO 13459:2012 for Trainer.
FOPS (Falling Objects Protective Structure) meets ISO 3449:2005 for Operator and ISO 13459:2012 Level II for Trainer.
Steering
Turning Diameter - ISO 7457:1997 (33.00R51 tires)
97.75ft
Dimensions (All dimensions are approximate. MSD II Body, 33R51 tires, unloaded machine.)
Inside Body Depth - Maximum
9.15ft
Overall Height - Body Raised
39.48ft
Centerline Front Tire Width
15.91ft
Centerline of Rear Dual Tire Width
14.06ft
Transmission
Maximum travel speeds with standard 33.00-R51 tires.
Standard Equipment:
Electrical

24V electrical system, low maintenance batteries (2) 93 amp-hour
Alarm, backup
Brushless alternator, 225 amp
Ground accessible power control box: Ethernet VIMS™ port and VIMS lamp; Engine starter; transmission and battery lockouts
Jump start/battery charge receptacle
LED payload indicator lamps
LED Lighting system: Back-up and hazard lights, Curb lights, (one) RH side, (one) LH side, Turn signals (front and rear), Engine compartment lights, Headlights with low-high beam selector, Ladder light and service deck lights, Stop/tail lights

Fluids

Extended Life Coolant to — 35° C (— 30° F)

Operator Environment

5V USB charging port
12V auxiliary power connection
Cup holders
Diagnostic connection port COM3 and Ethernet
Delayed Engine Shutdown
Dome courtesy light and map lights
Entertainment radio ready: Speakers, Optional Antenna (AM/FM/WB/satellite radio), Radio mounting provisions and 12V power supply
Fire suppression ready
Floor mat, multi-piece & replaceable
Gauges and indicators panel: Critical oil and coolant temperatures; Fuel and DEF level (if applicable); Engine system, brake and transmission fault indicators; Operator selectable max. machine speed by rotary dial; Speedometer, Tachometer
Heated mirrors, right and left
Hoist, body control
Interactive touchscreen vehicle information display: Day/night mode; Action alarm; Quad gauge display
Operator and trainer air suspension seats
Operator Door Power Window
Provision for customer accessory mounting
Push button secure start
Retractable front visor
ROPS cab, insulated/sound suppressed
Stairway and walkway access, 600 mm (24 in)
Steering wheel, tiltable, telescopic
Self-filling to windshield washer fluid from AC condensate
Storage locations for operator gear
Three point seat belt for operator seat
Windshield wiper, intermittent control / washer
Unitized hydraulic powered HVAC with automatic temperature control
Ventilated operator seat

Power Train

33R51 power train with standard rims
Cat 3512E engine: Automatic engine and DEF thermal management (if applicable); Automatic low voltage idle management; Air cleaner with precleaner (two); Turbocharging (four) with air-to-air aftercooler; Mechanical Electronic Unit Injector (MEUI™-A) fuel system; Automatic starter protection; Automatic ether starting aid
Hydraulic braking system: Automatic retarder control (ARC), adjustable and automatic; Brake release motor (towing); Engine over speed protection; Extended life brake disc material; Hill start assist/Anti roll back strategy; Oil-cooled, multi-disc (front and rear) — Service, retarding, parking, secondary; Park brake integrated with gear selector
Transmission :Six-speed, automatic power shift with Electronic Clutch Pressure Control (ECPC); Advanced Productivity Electronic Control Strategy (APECS); Body-up reverse neutralizer; Body-up shift inhibitor; Downshift/reverse shift inhibitor; Directional shift management; Enhanced Traction Control System; Programmable top gear; Oil level sensor; Neutral coast inhibitor; Neutral start switch; Lock-up torque converter; Rear axle continuous lubrication/filtration
Turbine air starter with air tank, air horn and automatic lubrication system

Other Equipment

Auxiliary "buddy" dumping quick connect
Auxiliary connection 'user defined shutdown'
Auxiliary steering quick connect (towing)
eOMM
Fast fill fuel and DEF remote fill system
Guards for rotating components
Hill Start Assist
Hydraulic Filters, 1,000 hours
Remote flash software and troubleshooting
Secondary steering (automatic)
Tie off points
Tow hooks (front) and tow pin (rear)
Sight glasses for hydraulic oils
SOS℠ ports
Vital Information Management System (VIMS)

Cat Technology Products

Cyber security
Integrated object detection system with touchscreen display
Tire Payload Monitoring System 2 (TPMS 2)
Product Link™ Elite
Optional Equipment:
Electrical

Auxiliary rear work lights, (one) LH side
Digital Payload Display
LED Lighting system: Additional lighting package, Auxiliary VIMS, Body rear, Seat & park brake
Workshop horn

Truck Bodies

MSD II body: 100 m3 (131 yd3)
Dual slope body: 78 m3 (102 yd3)
Body specific side wall and tail extensions
Customizable body liner packages
Body heat exhaust
Rock ejectors
Rear body lighting group: Directional signals, Stop/tail lights

Fluids

Extended Life Coolant to — 50° C (— 58° F)

Operator Environment

Emergency stop
Deluxe Cab: Advanced cabin filtration system; Catwalk and handrails for rear cab access; Heated, cooled and ventilated front seat; Power right side window; Suspended companion seat; Storage tray

Power Train

No air – electric starter with 93-amp hour batteries (four), electric horn and automatic lubrication system
Hydraulic braking system: Advanced ground control with Anti-lock Braking System (ABS) and Dynamic Stability Control (DSC)
Variable speed fan drive
Transmission: Engine pre-lubrication system; Rear axle continuous lubrication/filtration with cooler

Other Equipment

2560 L (676 gal) fuel tank (non-Tier 4)
Body heat exhaust
Bumper towing – center pin kit
Cold weather start (block heater)
Communication Ar – Minestar™ radio
Fire extinguisher, portable
Five piece crankcase guards
Fuel heater, fuel water separator
Fuel tank mud guard
Gauge, brake wear indicator
Ground accessible fluid service center, hydraulic and coolant
Hub odometer, kilometers
Powered access stairway
Rim Diffuser
Wheel chocks
Wireless Electronic Technician (ET)
Working at heights protection

Cat Technology Products

Cruise control
360 degree surround view camera
4G cellular/satellite dual mode
Connectivity bundle (includes: wireless operator ID, bluetooth key FOB to start)
Driver Safety System (DSS) 4.0 Ready
Minestar GPS
Minestar communication group (enables: Minestar Fleet, Aux, and Truck Spotting)
Oil Renewal System (ORS) (non-Tier 4)
Road Analysis Control (RAC)
Contact Us
Get A Quote
Thank you for your interest in Mustang Cat. We are here to help you in any way that we can. If you have a question, need equipment advice or just need additional information, we want to hear from you. You can email, phone or fill out the form below and we will be happy to connect with you.