What You Need to Know Before Renting a Boom Lift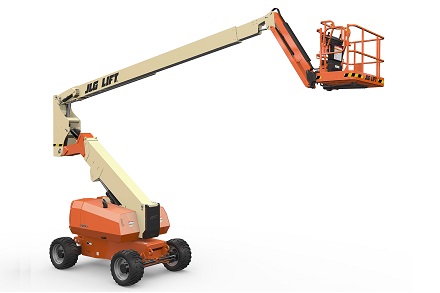 Boom lifts, also called aerial lifts, man lifts or cherry pickers, are a valuable resource for construction workers, electrical linemen, warehouse employees and many others. They are a crucial component of completing many types of work projects.
Boom lifts are heavy pieces of equipment, and there are many techniques and safety elements that you should understand before renting a lift. If you're not familiar with the aerial equipment family, here's what you need to know before renting a boom lift.
What Is a Boom Lift?
Boom lifts are a type of aerial lift that provides workers with access to otherwise unreachable areas. They are specifically designed to lift you up and out rather than just lifting you straight up like a scissor lift, giving you clearer access to work on your target area.
These lifts are optimal for reaching power lines, tall trees, windows, lighting fixtures and other elevated elements. They are also used at some sporting events to help with lighting, and people will sometimes even rent boom lifts for their events to help with decorating or tearing down.
Whatever you need a boom lift for, make sure you have the proper training before renting one.
Types of Boom Lifts
Different kinds of boom lifts specialize in certain movements and are designed for specific terrains and job sites. Consider the type of work you will be using the lift for and the job site's landscape when choosing the right boom lift to rent for your project.
There are three primary types of boom lifts to choose from when renting:
Telescopic boom lifts: Also called stick booms, these lifts have extended horizontal reach. Some models can extend up to 120 feet at any operating angle, making them ideal for job sites with limited access or rugged terrain.
Articulating boom lifts: These lifts have joints in the arm that allow for more flexible movement and bending. They are perfect for confined spaces and are often used in shipyards and industrial zones.
Trailer-mounted boom lifts: You can easily transport these lifts by attaching them to a truck or van with the hitch at their base. Towable lifts are more cost-effective for this reason and typically require minimal maintenance compared to other lifts.
How to Operate a Boom Lift
There are several key safety measures to follow at all times while using a boom lift. Many of these may seem like common sense, but reviewing simple safety tips before operating heavy equipment will help you successfully complete the task at hand.
Taking basic precautions such as these is an easy way to ensure safety while operating a boom lift:
Use trained operators: Confirm that anyone using the boom lift has completed the necessary training and is fully certified, and make sure they follow proper operating procedures.
Clear the base and circumference: Clear your surroundings before going up in the lift to avoid injury if objects fall off the platform.
Wear a harness: Wear the safety harness and attach the lanyard to the bucket so you will be secure even if a bump throws you off balance.
Avoid heavy wind: When boom lifts are extended to their maximum height, strong winds pose a potential safety threat. The best practice is to avoid operating in heavy wind if at all possible.
Do You Need a License to Operate a Boom Lift?
Yes, there are aerial lift training requirements you need to meet before operating boom lifts or other aerial equipment. You should fulfill these requirements before renting a boom lift for your project.
Anyone using a boom lift must get a license and have proper training beforehand. You can become certified to operate all aerial lifts by going through a brief certification process required by the Occupational Safety and Health Administration (OSHA).
The certification process is not long and can even be completed online for your convenience. After you complete the training, you receive a Certified Operator card, enabling you to drive any aerial lift, including boom lifts.
Contact Mustang Cat for Boom Lift Rentals
For a convenient boom lift rental near you, choose Mustang Cat. We are a family-owned Cat® dealer serving Houston and the surrounding area. The company has been in the same family since 1952, and together we've accumulated over 60 years of experience in the industry.
Our knowledgeable staff can get you the equipment you need for a successful project. We offer a wide selection of boom lift rentals from trusted brands such as JLG. You can trust our top-notch service and quality products to get the job done right.
Contact Mustang Cat online for more information or give us a call us at 800-256-1001. You can also visit a Mustang Cat dealership near you to discuss your next boom lift rental.