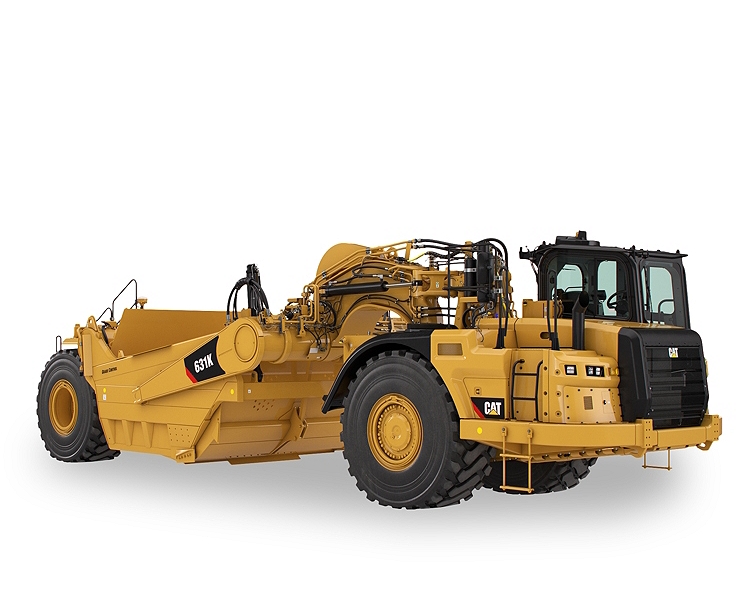 631K Wheel Tractor-Scraper
Quick loading, high travel speeds and the ability to load and dump on the run yield fast cycle times, allowing Cat Wheel Tractor-Scrapers to consistently deliver high productivity at the lowest cost per ton.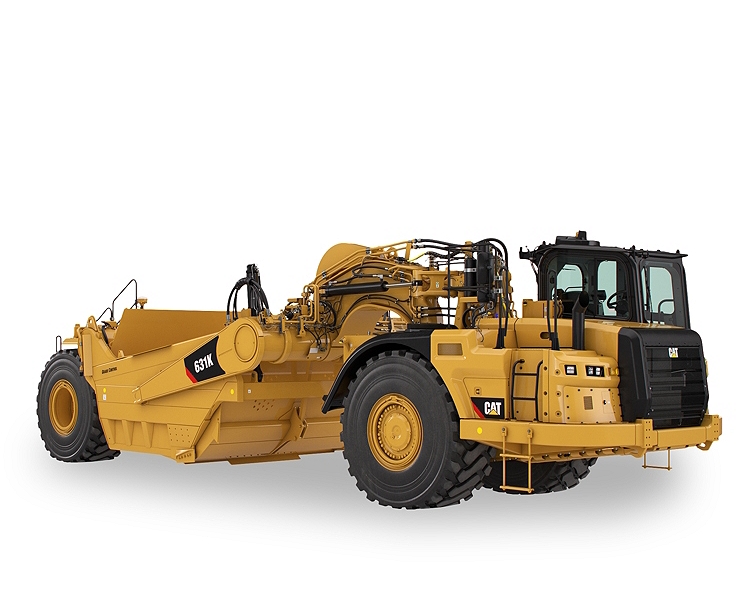 Tractor Engine
Flywheel Power - Tractor/Scraper
570HP
Scraper Bowl
Scraper Capacity - Heaped
34yd³
Transmission
Dimensions
Front of Tractor to Front Axle
142.2in
Axle to Vertical Hitch Pin
20in
Rear Axle - Rear of Machine
108in
Height - Scraper Blade Maximum
20in
Ground Clearance - Tractor
26.1in
Length - Overall Machine - Standard
597in
Length - Maximum (Push-Pull)
655.1in
Width - Rear Tire Centers
96.9in
Width - Outside Rear Tires
143.2in
Height - Overall Shipping
153.2in
Implement Cycle Times
General
37 200 kg (82,200 lb); 37.2 tonnes (41.1 tons)
Scraper Capacity - Struck
24yd³
Scraper Capacity - Heaped
34yd³
Fuel Tank Refill Capacity - Scraper
231gal (US)
180° Curb-to-Curb Turning Width
40.12ft
Engine
Rated Engine RPM - Tractor
1900r/min
Cat C18 engine meets U.S. EPA Tier 4 Final/EU Stage IV emission standards.
Service Refill Capacities
Diesel Exhaust Fluid (DEF)
8gal (US)
Non Push-Pull
Push-Pull
Overall Length - With Bail Down
54.59ft
Cab
ROPS/FOPS meet "ISO Standards."
The exterior sound power level for the standard machine (ISO 6393) is 111.5 dB(A).
Safety Criteria Compliance Standards
Falling Object Protective Structure (FOPS)
ISO 3449:2005 Level II
Rollover Protection Structure (ROPS)
ISO 3471:2008 for up to 21 282 kg (46,919 lb)
Travel Speeds - Runout
Transmission Gear - Sixth
19mile/h
Transmission Gear - Seventh
25.7mile/h
Transmission Gear - Reverse
6.2mile/h
Transmission Gear - Fourth
10.5mile/h
Transmission Gear - Eighth
34.7mile/h
Transmission Gear - First
3.4mile/h
Transmission Gear - Fifth
14.1mile/h
Transmission Gear - Third
7.7mile/h
Transmission Gear - Second
6.2mile/h
Standard Equipment:
Note

Standard and optional equipment may vary. Consult your Cat dealer for details.

Power Train – Tractor

Cat C18
Compression engine brake
Electric start, 24V
Air cleaner, dry type with precleaner
Fan, hydraulic
Ground level engine shutdown
Radiator, aluminum unit core, 9 fins per inch
Guard, crankcase
Starting aid, ether
Braking system:

Primary and secondary, wet disc, hydraulic
Parking, hydraulic-released, spring-applied
Throttle lock

Transmission:

8-speed planetary power shift
ECPC control
APECS software
Programmable top gear selection
Transmission hold
Differential lock
Guard, power train
Standard tire spin reduction
Ground speed control
Machine speed limit
Differential lock protection

Power Train – Scraper

Braking system:

Primary and secondary, dry caliper, hydraulic actuated

Electrical – Tractor

Alternator, 150 Amp
Batteries (4), 12V, 1,000 CCA, maintenance free, high output
Electrical system, 24V
Lighting system:

Headlights, LED
Turn signals with hazard function, LED floodlights, (2) cutting edge (1) bowl, halogen side vision (2)

Starting/charging receptacle

Electrical – Scraper

Alarm, backup
Lighting system:

Brake lights, LED
Turn signals with hazard function, LED

Operator Environment – Tractor

HVAC system, heat, AC, defrost
Thermostat control of HVAC system
Coat hook
Lunchbox platform with holding strap
Diagnostic connection (2)
12V power ports (2)
Differential lock (1)
Dome courtesy light
Horn, electric
T-Handle implement control
Mirror, rearview
Radio ready
ROPS/FOPS cab, pressurized
Keypad switches:

Throttle lock
Wipers/washers
Hazard lights
Retarding level select
Work lights on, off
Information mode on Messenger Display

Safety tab rocker switches
Seat belt, static two-piece
Seat, Cat Advanced Ride Management (ARM), Cat Comfort Series 3, rotates 30 degrees
Steering wheel, tilt, telescoping, padded
Windows, right side emergency egress
Windows, sliding
Windows, laminated, zipped in
Windshield wipers, front and rear windows, includes washers
Door lock
Messenger Display
Gauges, warnings include:

Coolant temperature
Engine oil temperature
Hydraulic oil temperature
Diesel Particulate Filter (DPF) temperature
Fuel level
Park brake
Implement lockout
Brake system
Regeneration required
Throttle lock
System voltage
Secondary steering
Bail down
Ejector auto
Differential lock
Apron float
Transmission hold
Cushion hitch
High beam lights
Action lamp
Engine speed, rpm
Gear selection
DEF fill levels

Fluids

Extended Life Coolant to –37° C (–34° F)

Other Standard Equipment – Tractor

Advanced cushion hitch
Accumulators (cushion hitch) with Canadian Registration Number (CRN)
Fast oil change
Fenders, non-metallic
Heater, engine coolant 120V
Rims (2)
Tow hooks, front
Vandalism locks
Heater, engine coolant 120V
Steering locks

Other Standard Equipment – Scraper

Bowl:

18.3 m3 (24 yd3), struck
26 m3 (34 yd3), heaped

Vandalism locks
Rims (2)
Hydraulic position sensing cylinders (bowl lift and apron)
Optional Equipment:
Note

Standard and optional equipment may vary. Consult your Cat dealer for details.

Steering Arrangements

Secondary Steering Arrangement

Integrated Technologies

Sequence Assist Arrangement with Payload Estimator
Load Assist
Cat Grade Control with Load Assist
Advanced Tire Spin Reduction

Other Attachments

Camera arrangement – Work Area Vision System (WAVS)
Cab beacon
Air horn
Air horn and beacon
Fender, scraper
Guard, overflow
Wiring group
Push Pull

Service Instructions

Film arrangement – U.S. (ANSI)
Film arrangement – International (ISO)
Contact Us
Get A Quote
Thank you for your interest in Mustang Cat. We are here to help you in any way that we can. If you have a question, need equipment advice or just need additional information, we want to hear from you. You can email, phone or fill out the form below and we will be happy to connect with you.