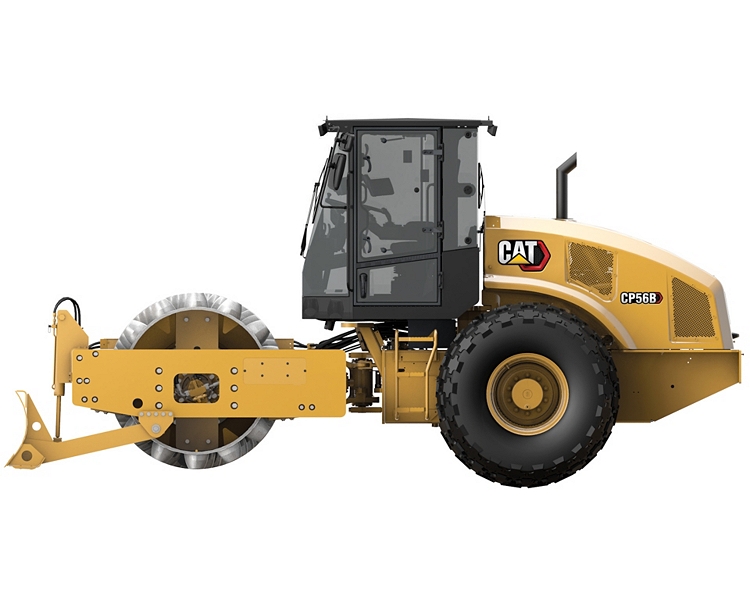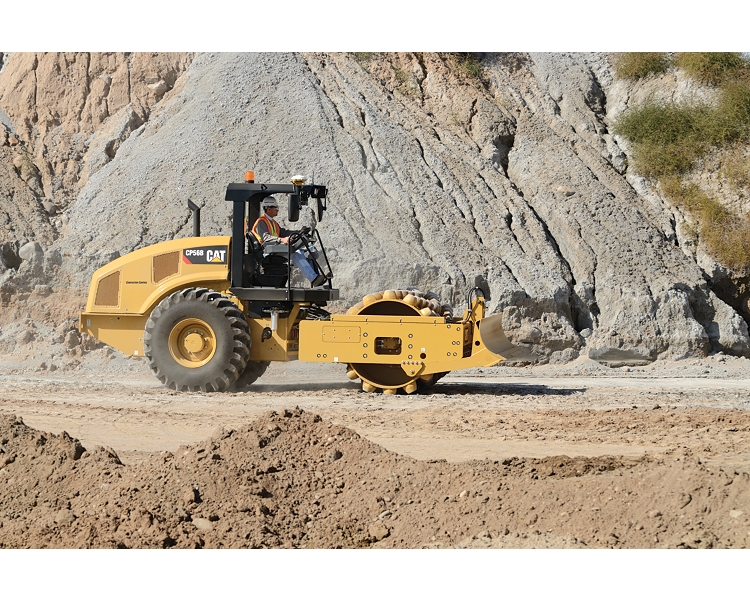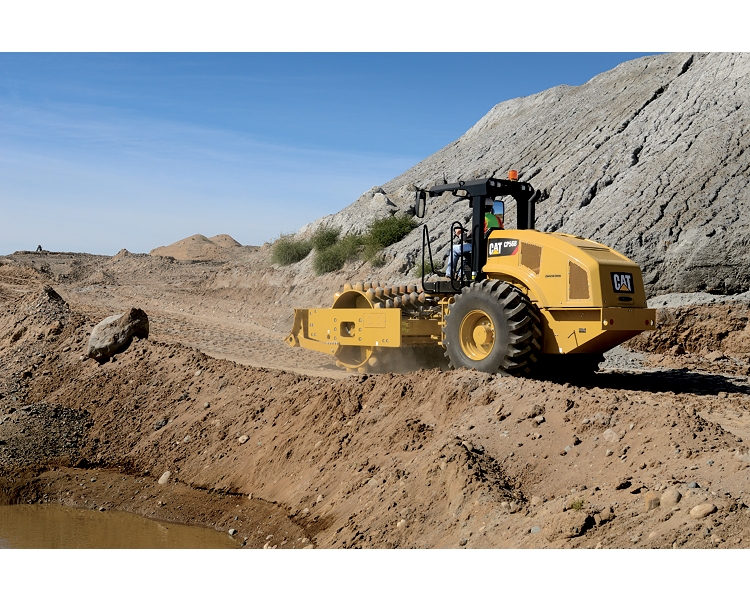 CP56B Vibratory Soil Compactor
The CP56B provides exceptional performance for cohesive and semi-cohesive soil compaction applications.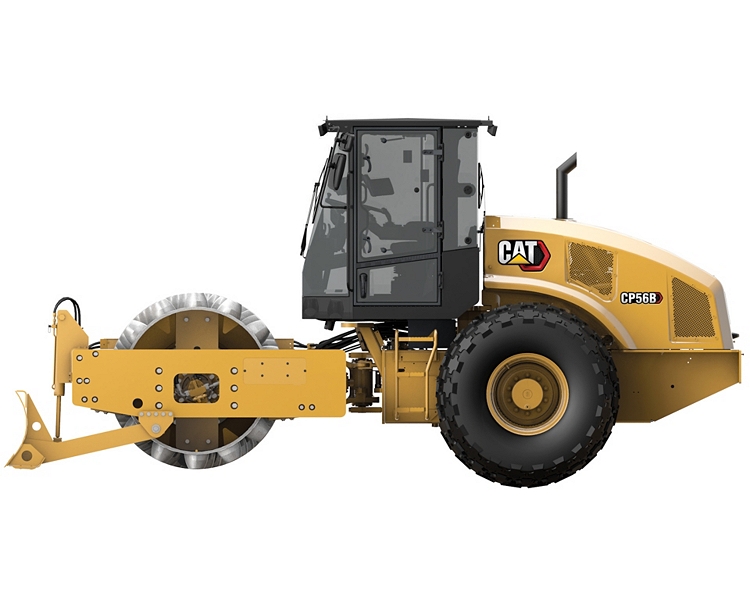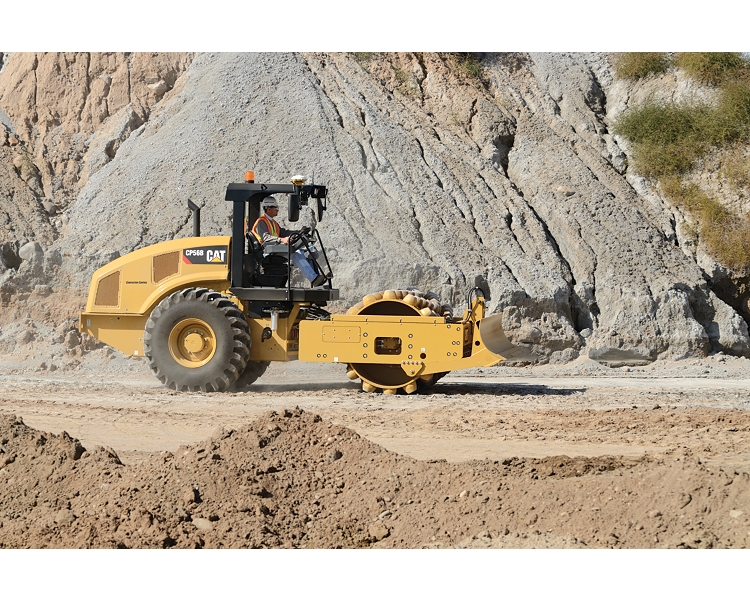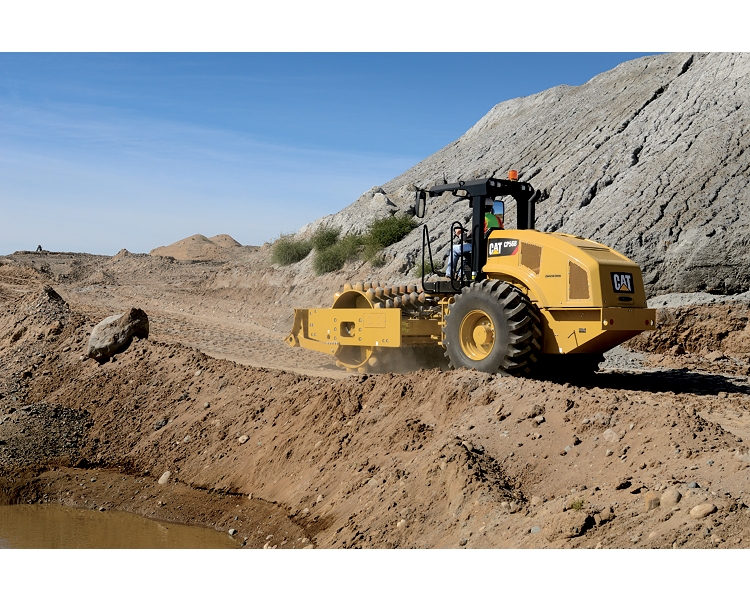 Weights
Operating Weight - With Cab
25707lb
Weight - Drum with ROPS/FOPS
14026lb
Operating Specifications
Turning Radius - Inside Drum Edge
12.08ft
Engine
Dimensions
Overall Length - With Blade Option
21ft
Overall Width - With Blade Option
8.25ft
Drum Diameter - Over Pads
61in
Height - With ROPS/FOPS or Cab
10.25ft
Vibratory System
Centrifugal Force - Maximum
67600lb
Variable Frequency Option Range
23.3 - 30.5 Hz (1400-1830 vpm)
Centrifugal Force - Minimum
31670lb
Vibratory Frequency - Standard
30.5 Hz (1830 vpm)
Tires
Service Refill Capacities
Standard Equipment:
Operator Environment

ROPS/FOPS Canopy with Handrails/Guardrails, Floor Mat
Vinyl Adjustable Pivoting Seat with Integrated Console and LCD Display
Adjustable Tilting Steering Column with Integrated Cup Holders
Rear Vision Camera with Color Touchscreen Display
Seat Belt
12-volt Power Outlet

Vibratory System

Padfoot Drum
Dual Amplitude, Single Frequency
Dual Pod-Style Eccentric Weight Housings
Auto-vibe Function
Front Adjustable Steel Scraper

Power Train

Cat C4.4 Diesel Engine
Air Cleaner, Dual Element
Three-Speed Throttle Switch, Eco-mode and Automatic Speed Control
Dual Propel Pumps; One for Drum Drive, One for Rear Axle
Fuel Filter, Water Separator, Priming Pump, Water Indicator
Tilting Radiator/Hydraulic Oil Cooler
Dual Braking System

Electrical

24 volt Electrical System
100 ampere Alternator
750 Cold-cranking Amps Battery Capacity

Other

Product Link™
Sight Gauges for Hydraulic Oil Level and Radiator Coolant Level
SOS℠ Sampling Valves: Engine Oil, Hydraulic Oil and Coolant
Optional Equipment:
Operator Environment

ROPS/FOPS Cab with Climate Control, Cloth Seat
Internal Rear View Mirror
External Rear View Mirrors
Sun Visor
Cab Internal Roll-down Sun Screen

Vibratory System

Leveling Blade
Variable Frequency
Dual Adjustable Steel Scrapers

Power Train

Technology Solutions

Measure - Machine Drive Power
Map - SBAS GNSS Mapping
Connect - Cloud and Machine Connectivity

Other

Upgraded Halogen Light Package
Amber Rotating Beacon
Fuel Fill Access Door
Contact Us
Get A Quote
Thank you for your interest in Mustang Cat. We are here to help you in any way that we can. If you have a question, need equipment advice or just need additional information, we want to hear from you. You can email, phone or fill out the form below and we will be happy to connect with you.