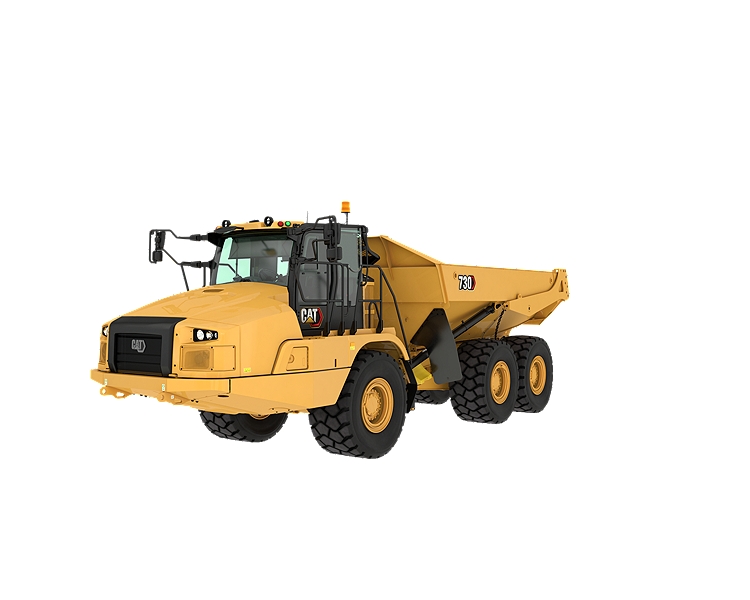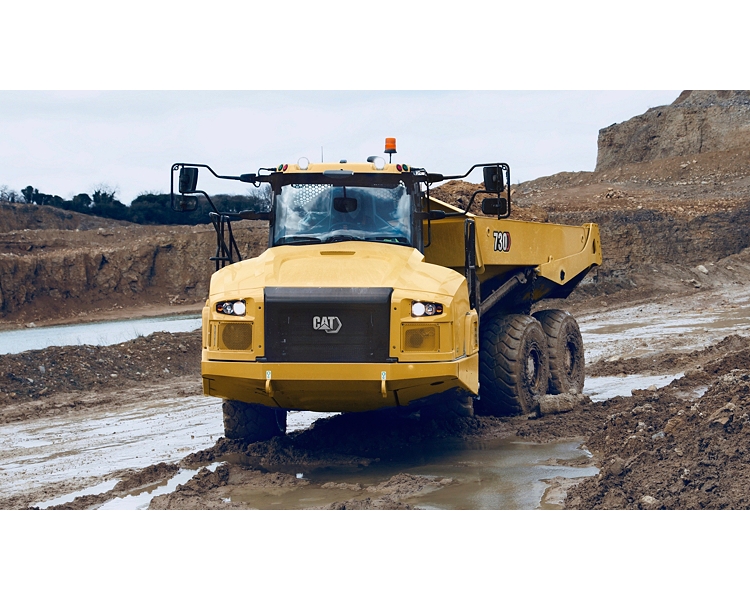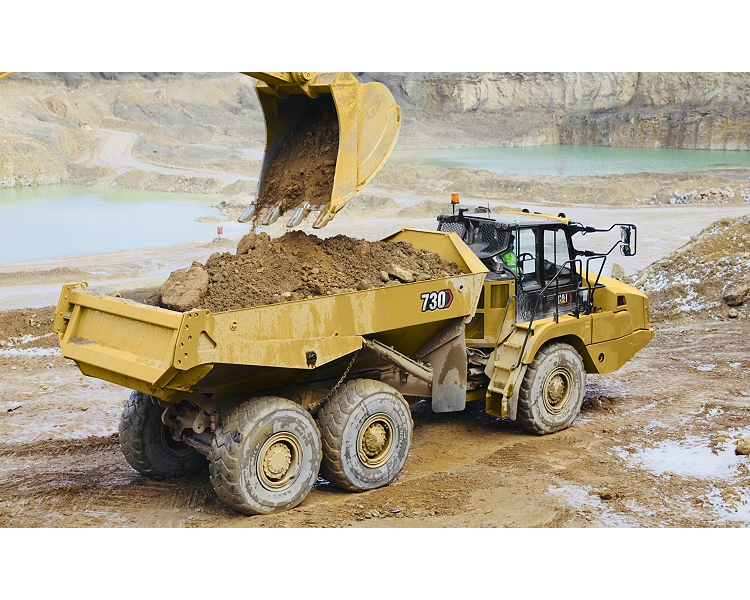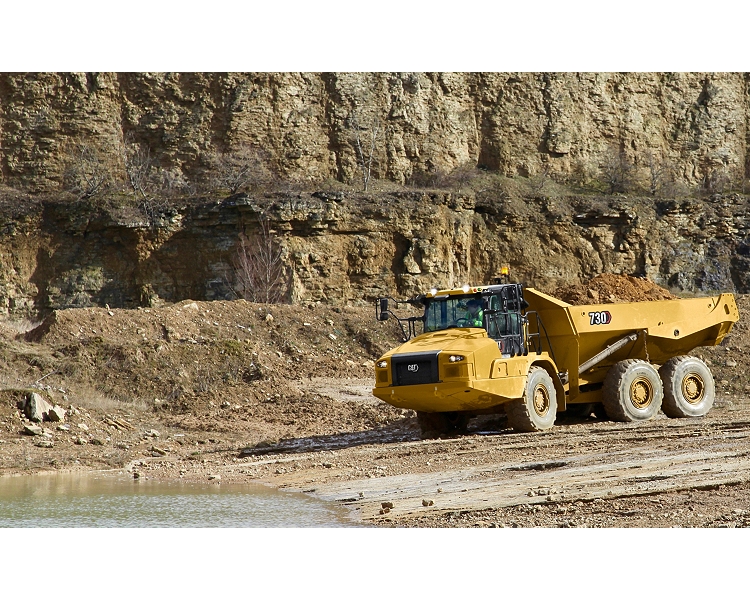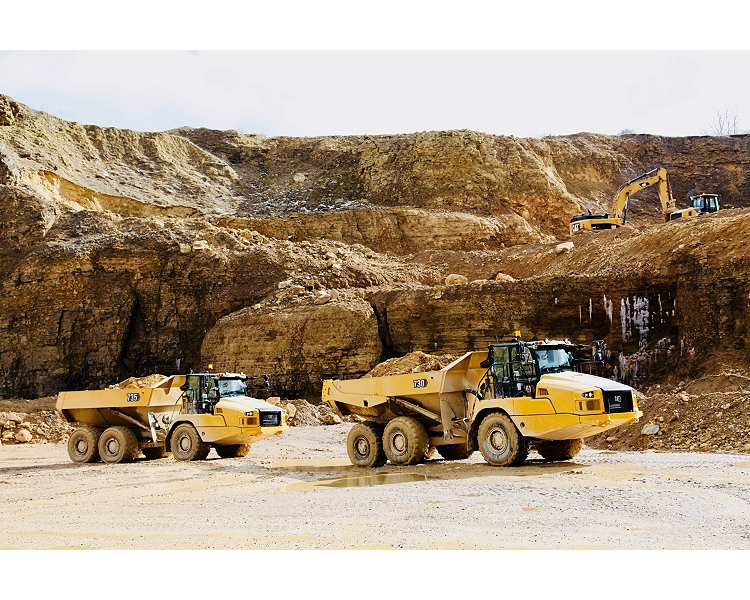 730 Articulated Truck
The Cat 730 with a 17.5 m³ (23 yd³)/28 tonnes (31 tons) capacity, offers demonstrated reliability and durability, high performance and productivity and a new world-class cab to improve operator comfort and ease of operation.<br>Updating the successful 730C2 to include the new cab design makes the 730 a more attractive proposition for our customers. Class leading levels of performance and new features such as Advanced Automatic Traction Control (AATC) and Assisted Hoisting Control create operator comfort, making a productive machine all day long while retaining all axle enclosed wet brakes and Advanced Productivity Electronic Control Strategy (APECS).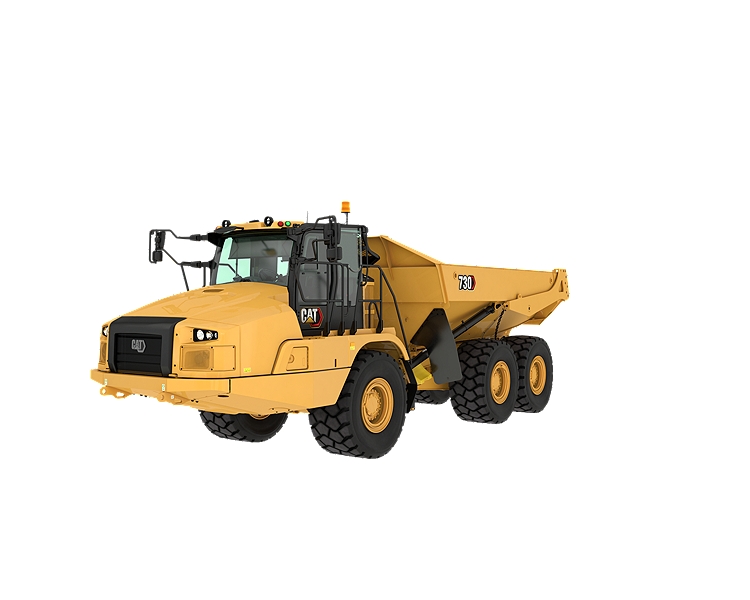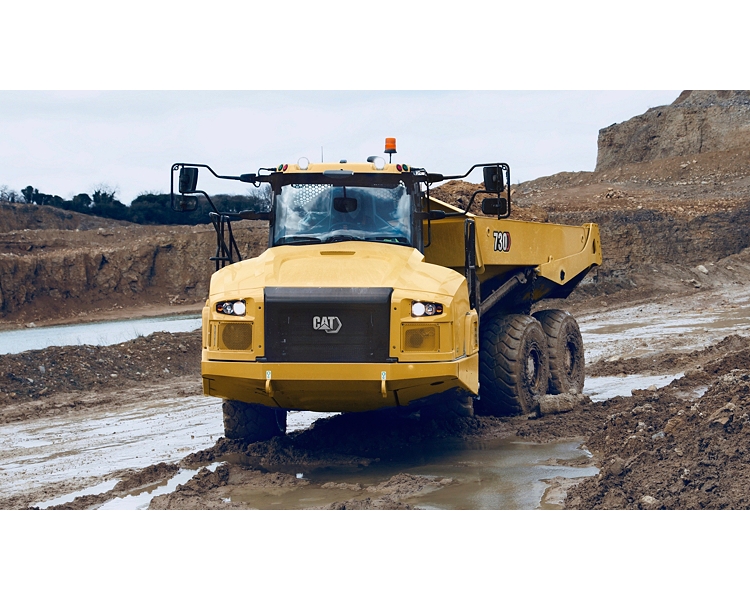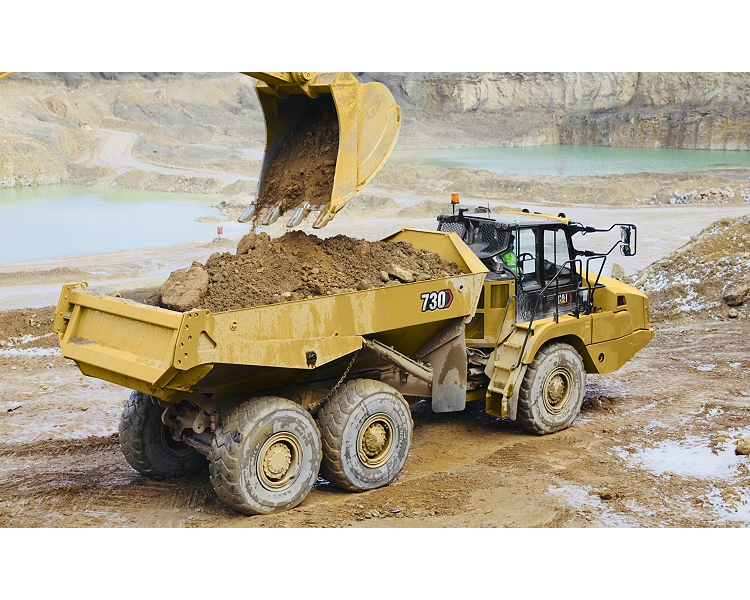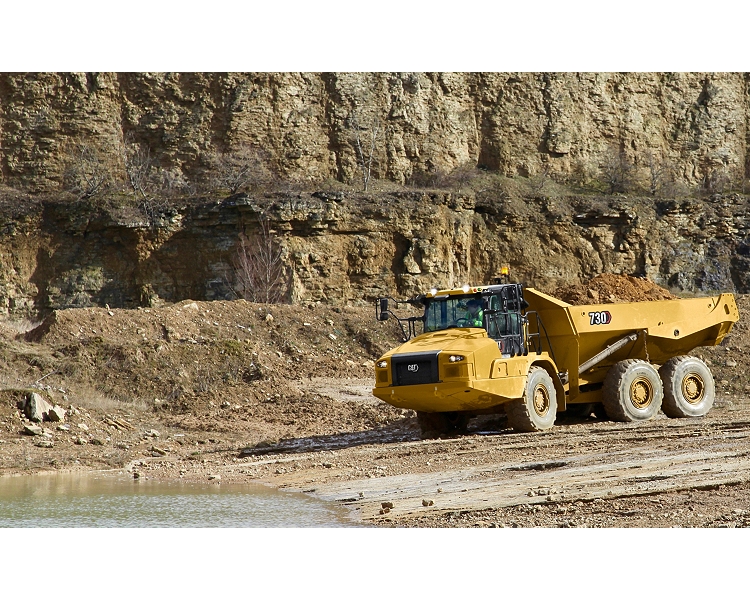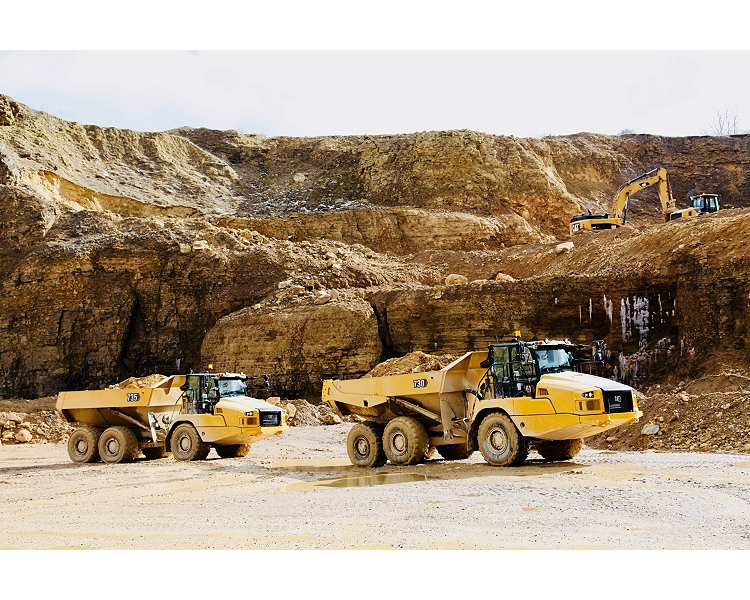 Engine
No Engine De-rating Below
12500ft
Peak Engine Torque Net (SAE J1349)
1564ft·lbf
Engine Model - U.S. EPA Tier 4 Final/EU Stage V
Cat C13
Peak Engine Torque Gross (SAE J1995)
1579ft·lbf
The net power advertised is the power available at the flywheel when the engine is equipped with alternator, air cleaner, muffler and fan at minimum speed.
The 730 meets Tier 4 Final and Stage V emission standards.
The power ratings apply at rated speed of 1,800 rpm when tested under the conditions for the specified standard.
The references to Tier 4 Final/Stage V include U.S. EPA Tier 4 Final, EU Stage V, Japan 2014 (Tier 4 Final), and Korea Tier 4 Final emission standards.
Net power when the fan is at maximum speed is 254 kW (341 hp) per the SAE reference conditions.
DEF used in Cat SCR systems must meet the requirements outlined in the International Organization for Standardization (ISO) standard 22241-1. ISO 22241-1 requirements are met by many brands of DEF, including those that carry the AdBlue or API certificatio
Weights
Body Capacities
Transmission
Service Refill Capacities
Final Drives/Differential
33gal (US)
Sound Levels
The operator sound exposure Leq (equivalent sound pressure level) measured according to the work cycle procedures specified in ANSI/SAE J1166 OCT98 is 72 dB(A), for the cab offered by Caterpillar, when properly installed and maintained and tested with the
Hearing protection may be needed when operating with an open operator station and cab (when not properly maintained or doors/windows open) for extended periods or in noisy environments.
Body Hoist
Standards
Operating Weights
Steering
Body Plate
High strength Brinell HB450 wear resistant steel
Turning Circle
Turning Dimensions - Aisle Width
210in
Turning Dimensions - Steer Angle - Left/Right
45°
Turning Dimensions - Inside Radius
153in
Turning Dimensions - SAE Turning Radius
294in
Dimensions are for machines equipped with 23.5R25 tires.
Turning Dimensions - Clearance Radius
318in
Body Plate Thickness
Optimal Loader/Truck Pass Matching
Wheel Loaders: 966M/966M XE - Passes
4
Wheel Loader: 962M - Passes
4–5
Wheel Loader: 950M - Passes
5
Hydraulic Excavators: 336F/336F XE - Passes
5–6
Hydraulic Excavators: 349F/349F XE - Passes
4–5
An optimum system match gives you a major productivity advantage. The 730 is an excellent match for the Cat 349F and 336F Hydraulic Excavators; and Cat 972M, 966M, 962M and 950M Wheel Loaders. Having matched loading and hauling tools results in increased
Wheel Loaders: 972M/972M XE - Passes
3–4
Standard Equipment:
Note

Standard and optional equipment may vary. Consult your Cat dealer for details.

Operator Environment

Tilt and telescopic steering wheel
Machine operation monitoring system includes:
– Action lamp
– Engine oil pressure
– Primary steering system
– Left and right turn signal
– High beam
– Coolant temperature
– Tachometer
– Parking brake
– Fuel level
– Transmission oil temperature
– Brake system
– Transmission hold
– Hoist control
– Hydraulic system
– Charging system
– Retarder
– Transmission fault
– Traction control system
– Check engine lamp
Combined gear selection and hoist control lever
Glass windows:
– Front, laminated and tinted
– Sides and rear, toughened and tinted
Secondary steering – electro hydraulic
Heater and defroster with four-speed fan
Retractable belt: Operator seat and second seat
Windshield wiper and washer, two speed, intermittent (front)
Mirrors: extensive arrangement for improved visibility
Windshield wiper and washer, two speed (rear)
Seats:
– Operator: fully adjustable, air suspension
– Trainer: padded with lap belt
Adjustable air vents
Windows opening both sides, tinted
Liquid Crystal Display (LCD):
– Alert indicator
– Selected gear and direction
– Speed or auto shift
– Review Operation and Maintenance Manual (OMM)
– Primary steering failure warning
– Seat belt warning
– Secondary steering failure warning
– Diesel Particulate Filter (DPF) regeneration filter
– Machine Security System (MSS) ready
– Secondary steering energy source engaged
– Hour meter
– Retarder active
Sun visor
Touchscreen display incorporating the rearview camera video feed
Storage:
– Cup holder
– Flask receptacle
– Under seat storage
– Door pocket
– Behind operator seat storage
– Coat hook
Air conditioning with R134A refrigerant

Cat Technologies

Cat Detect with Stability Assist
Product Link

Electrical And Lighting

Electrical system: 24-volt, 10A 24- to 12-volt converter
Main disconnect switch
Batteries (two) maintenance free
Remote starting receptacle (cables not included)
Horn
Lighting systems:
– Cab interior
– Two head lamps
– Two width marker
– Two reversing
– Work light/cab access light
– Two stop/tail lights
– Front and rear direction indicators

Power Train

Differentials: standard with automatic clutched inter- and cross-axle differential locks
Auto shift six-speed forward and one reverse transmission
Dual circuit oil immersed, enclosed brakes – all wheels
Retarder: engine compression brake
Cat C13 engine
Three axle, six-wheel drive
Cat Clean Emission Module (CEM) and exhaust aftertreatment package

Safety

Rearview camera
ROPS/FOPS cab
Reverse alarm

Guards

Radiator
Rear window
Axle
Front dump body spill guard, integral part of fabricated body
Crankcase

Other Standard Equipment

Sound suppression (only standard in Europe)
Tires, six 23.5R25, radial
Vandalism protection: lockable caps
Mud flaps: wheel arch and body mounted with transportation tiebacks
S·O·S sampling valves
Optional Equipment:
Note

Standard and optional equipment may vary. Consult your Cat dealer for details.

Optional Equipment

Window blinds
Auto lube installation for automatic greasing of bearings
Ether start
Cold weather start attachment
Four-point seat belt
Machine Security System (MSS)
Bare chassis (no body) standard wheel base
Fuel additive – anti-waxing
Sound suppression (only standard in Europe)
Cold weather coolant –51° C (–60° F)
Wheel chocks
Flashing LED beacon
Engine block heater
Bluetooth radio stereo system
Exhaust heated body
Product Link Elite: PLE631 (satellite), PLE641 (cellular). Product Link is optional.
Heated rearview motorized mirrors
Body liners
Bare chassis (no body) long wheel base
Infrared glass – high ambient cab
Heated/cooled seat
Roof mounted High Intensity Discharge (HID) work lights
Cat Production Measurement payload monitoring system
Fast fuel fill
Tires, six 750/65R25, radial
Scissor tailgate
Contact Us
Get A Quote
Thank you for your interest in Mustang Cat. We are here to help you in any way that we can. If you have a question, need equipment advice or just need additional information, we want to hear from you. You can email, phone or fill out the form below and we will be happy to connect with you.