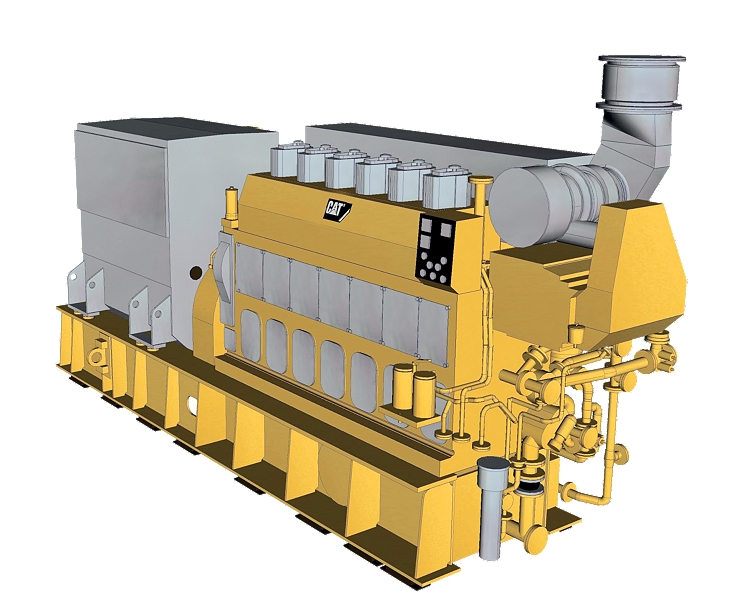 6CM25C
The 6CM25C generator set brings to the offshore industry a legacy of proven reliability and durability in the marine industry. CM offshore generator sets feature standard modular designs, engine-mounted pumps and filters, and a full range of factory attachments that make their installation simple and efficient. Ideal applications for the 6CM25C offshore generator sets are main power on-board production vessels and platforms. Complete package offerings are MCS type-approved and compliant with IMO Tier II emissions standards, making their integration into vessels and platforms a simplified operation. Cat generator sets are backed by the worldwide network of Cat dealers ready to support your operation with technical support, service, parts, and warranty.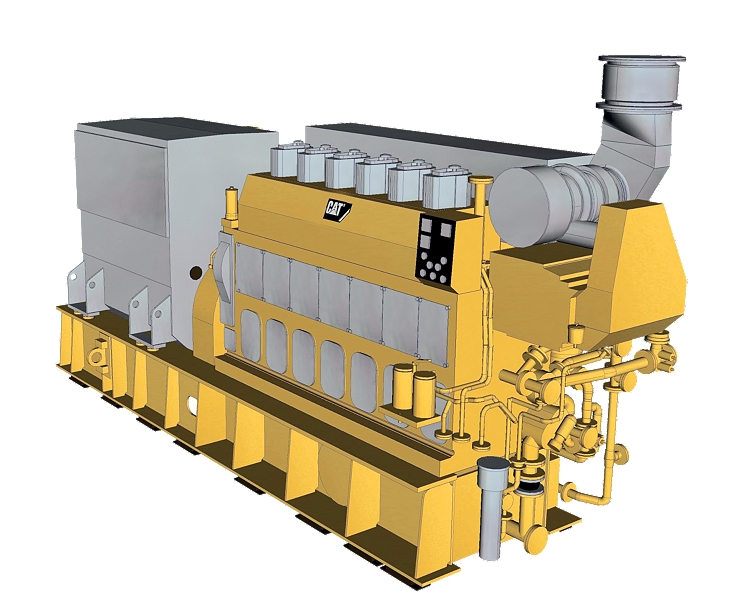 Engine Specifications
Dimensions
Standard Equipment:
Engine

Motor-driven barring gear, fitted on engine
Reversing contractor and pushbutton switch with cable
Electronic speed setting equipment with actuator and speed pick-up
Emergency shutdown equipment with pushbutton, separate, for manual emergency stop

Engine Indicators

Gauge board with set liquid damped pressure gauges for: fuel, lubricating oil, fresh water, starting air, and charge air.
On-engine thermometers for fuel, lubricating oil, fresh water, and charge air
Electric remote speed indicator
Turbocharger and remote speed indicator
Exhaust gas temperature indicator

Control

Manual control on engine, including: control panel with start /stop key, speed setting device, mechanical shutdown device, change over of control functions from engine to remote control
Starting solenoid valve on engine, 24 V DC
Separate electronic speed governor

Monitoring For Unattended Operation

Pressure switches, mounted on engine, for: - Lube oil pressure at full load below danger level - Low lube oil pressure - Lube oil pressure below danger level - Lube oil pressure prelubrication failed - Low fresh water pressure at engine inlet - Fresh water pressure at engine inlet below danger level - Low fresh water pressure in LT circuit - Low starting air pressure - Low control air pressure engine/shutdown air pressure - Low fuel pressure at engine inlet Switches for: - High lube oil temperature at engine inlet - Lube oil temperature at engine inlet above danger level - High water temperature at engine inlet - Water temperature at engine outlet above danger level - High charge-air temperature at engine inlet - Detection of water in charge-air duct - Leak fuel level - Alarm contact for high differential pressure at fuel filter - Alarm contact for high differential pressure at lube oil back flushing filter - Set of thermocouples after each cylinder, before and after turbocharger - Crankcase oil mist detector Control Cabinet with housings for wall mounting, including: - Protection equipment designed for automatic and manual stop input signals, starting interlock input signals, monitoring for the wire break of the input signal units and the emergency shutdown solenoid - Speed recording system for overspeed, firing speed and minimum speed - Start /stop logic, controlled by engine automatic start (optional) - Service hour counter - Noris alarm system, cassette type, designed for alarm inputs for the engine including exhaust mean-value monitoring equipment as well as alarm inputs for the propulsion plant - Group alarm panel for the bridge and with optional and acoustical alarm equipment

Starting Air System

Separate non-return valve for the starting air pipe to the engine

Air Intake System

Air intake filter, fitted on the turbocharger
Air bottles, separate

Diesel Oil System

Separate circulating pump driven by electric motor, horizontal or vertical
Duplex filter with differential pressure indication

Exhaust System

Turbocharger at free end with transition nozzle (0 degrees from the vertical and away from engine), with compressor cleaning device
Expansion joint separate
Separate silencer and spark arrester, unlagged 35 dB(A)

Fresh Cooling Water System

HT pump, fitted on engine
LT pump, separate, vertical design, electric motor driven
HT thermostat, not powered and separate
Engine preheating equipment, fitted on base frame

Lubricating Oil System

Plate cooler, fitted on engine
Force pump, fitted on engine
Prelubrication pump, fitted on base frame, electric motor driven
Boll and Kirch automatic backflushing filter, separate
Duplex filter with differential pressure indication, separate
Pressure control valve, separate
Thermostat, not powered, separate

Connecting Parts - Engine

Set of connecting parts between flange coupling and flywheel
Flexible flange coupling between engine and generator
Base frame with flywheel guard and incorporating lube oil sump tank, for engine and generator
Mounting of engine and generator on the base frame
Set of bonded rubber rails for resilient mounting of the base frame
Set of flexible pipe connections

Tools

Set of tools for the engine including hydraulic tightening tools and nozzle tester
Set of tools for turbocharger
Inside micrometer for cylinder liners
Ruler for cylinder liner

Spare Parts

Set of engine spare parts for unrestricted operation
Set of spare flexible pipe connections
Optional Equipment:
Contact Us
Get A Quote
Thank you for your interest in Mustang Cat. We are here to help you in any way that we can. If you have a question, need equipment advice or just need additional information, we want to hear from you. You can email, phone or fill out the form below and we will be happy to connect with you.