Maintenance Tips for Your Commercial Backup Generator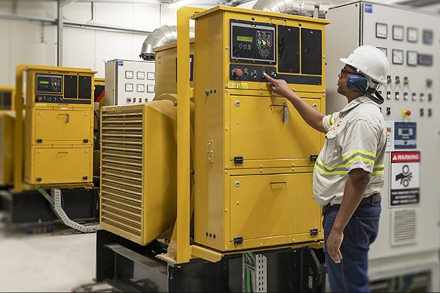 Backup generators are an essential part of protecting your business from grid failure and natural disasters. Still, most companies don't check or maintain them as rigorously as their main generators. With a regular maintenance routine, you can extend the life of your commercial backup generator and prevent extensive downtime in the future. By following these commercial generator maintenance tips, you can keep your machine running flawlessly for years.
How to Maintain a Backup Generator Daily
You should conduct a visual inspection of your commercial backup generator and check the oil and coolant levels every day. Inspect the alternator, transfer switch and water pump belt to examine their condition, and look underneath the unit for potential leaks. 
Every week, run your generator at a no-load setting and ensure the device is functioning properly. During this time, you should also check the battery charger and inspect the equipment for faulty connections and loose wires.
Establish a Backup Generator Preventative Maintenance Schedule
Your commercial backup generator should include a maintenance routine inside its manual. By following the servicer's proposed maintenance procedures and making daily, monthly and annual generator checkups, you can prevent downtime before it starts and keep your business constantly covered. Depending on your operating conditions, your backup generator may need more or less frequent maintenance.
Using the knowledge from your commercial backup generator's manual and your technical crew, create a maintenance schedule that checks the following equipment components:
Battery system
Cooling system
Engine system
Fuel system
Lubrication system
If your backup generator is regularly exposed to extreme weather, ambient temperatures, saltwater or airborne contaminants like dust and sand, it is essential to consult with your machine's manufacturers to determine an adequate maintenance schedule. Keeping all information about regular generator maintenance up to date and accurate is also vital to ensuring you receive the benefits of your warranty services.
Perform Generator Set Exercises
If a sudden power outage occurs, your backup generator must be prepared to go from a cold start to fully operational in under a minute. This process is strenuous for the engine, but you can help prepare the system by regularly exercising it. Every month, run the generator for at least 30 minutes while loaded so the fuel system and electrical contacts stay operational and don't deteriorate. Testing the system with actual building loads will allow it to acclimate to automatic transfer switches under strenuous realistic conditions.
Find the Right Generator at Mustang Cat
Whether you need a generator for electric, marine, industrial, oil or gas power, Mustang Cat has the right machine for you. We even have offer used generators for sale. For more than 60 years, Mustang Cat has shaped the energy infrastructure throughout Houston and the rest of Texas at large. We'll help you find a reliable backup generator that can handle your business's unique demands and perform as needed in crucial situations. To learn more about our large selection of backup generators, visit us in Houston or contact us online to speak with a representative.