Cat® 303E CR vs. Bobcat E32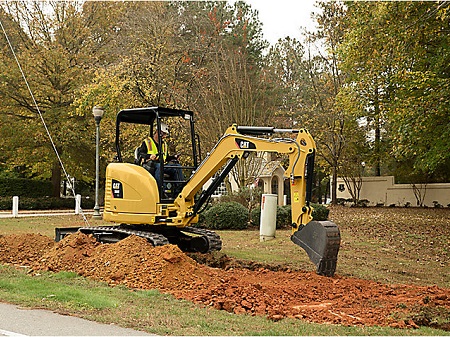 If you're looking to buy a mini excavator, comparing the powerful Cat 303E CR vs. the Bobcat E32 is worth the time for your operations. With a new mini excavator, you can handle a wide range of site requirements with increased efficiency and reliable performance for the job.
So when you're considering your options, which better fits your applications? Some key performance metrics and features can help you identify what's right for you.
Compare Equipment with Our New Comparison Tool>>
Comparing the Cat 303E CR vs. Bobcat E32 Mini Excavators
Each type of equipment can provide different capabilities for your operational needs. You'll find that features including ease of maintenance, performance and comfort are distinct between the two, with each offering various configurations to fit your requirements. To help you determine the best model for your work, we've compared the two and assessed each one's strengths.
The Most Powerful Machine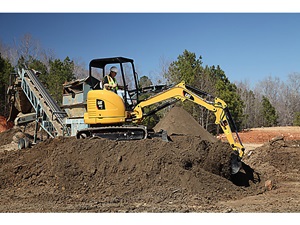 As you manage day-to-day demands on the job, you need a tough, dependable machine that can handle your tasks efficiently. In terms of power, the Bobcat E32 comes in slightly ahead, with 24.8 horsepower over the Cat 303E CR's 23.5. For dig depth, the Bobcat offers 10.2 feet, while Caterpillar delivers 9.75 feet with this mini excavator.
At 7,340 pounds, the Bobcat E32 has a higher operating weight than the 7,204-pound 303E CR, which means the Cat equipment is slightly lighter on the ground.
The More Comfortable Choice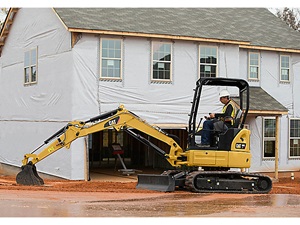 Maintaining a comfortable operating cab can be critical to overall productivity while reducing operator fatigue and increasing safety. Both equipment options provide a pressurized operator environment and offer superior visibility. However, the Cat 303 E CR offers some additional advantages to optimize operations.
Between the 303E and the E32, the Cat equipment stands out for its roomy cab and upgradeable options to fit unique operating needs.
The Easiest Machine to Maintain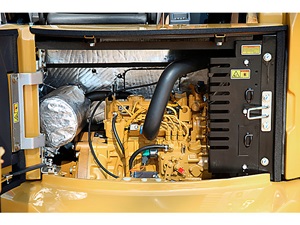 Which equipment option makes maintenance easiest? Being able to keep your equipment running gives you long-term investment value and dependable performance for your projects.
The 303E enables easy access to all critical maintenance parts through convenient compartments, making routine work more straightforward. The Bobcat E32 also offers a large square panel opening for several key maintenance requirements, so ease of use may depend on which part of the equipment you need to reach.
Harness the Power of the Cat 303E CR for Yourself
If you're in the market for a new mini excavator, Mustang Cat offers local headquarters and expert dealers to guide you through the complete Cat equipment lineup. Offering a wide selection of products from the trusted leader in heavy equipment, we have locations in the Houston area and throughout Southeast Texas to meet your project needs.
When you work with us, our representatives can help you get an ideal Cat 303E CR configuration that fits your applications, as well as the work tools you need to maximize its versatility. To learn more about our inventory or request a quote, stop by your nearest Mustang Cat location or reach out to us online.