Cat 304E2 CR vs. Bobcat E42
As two of the leading options in the industry, the Cat 304E2 CR and the Bobcat E42 offer advanced capabilities and user-friendly features to handle your applications. How do they stack up against each other? We've compared the two to help you evaluate the best fit for your operational requirements.
Compare Equipment with Our New Comparison Tool>>
Operational Features Comparison
These mini excavators have many specs, and you could compare numbers and features all day. To help you sift through this information, we've pulled out some key capabilities that influence performance so you can decide what's best for your work. Take a look at our top comparison points.
Performance: Cat 304 E2 CR vs. Bobcat E42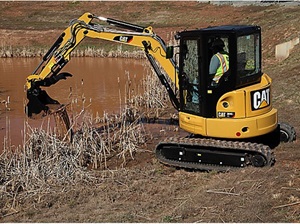 With the performance you can expect from an industry-leading brand, you get long-term value and optimized efficiency on the job. You need equipment that can deliver for your requirements reliably, and both of these excavators offer dependability and consistent performance on the job.
In terms of horsepower, the Bobcat E42 has a slight lead, offering 42.6 over the Cat 304E2 CR's horsepower of 40.2. When it comes to movement, the Bobcat also has a slight edge thanks to a maximum travel speed of 3.3 mph, beating the Cat excavator's offering of 3.2 mph. For maneuverability, the 304E2 CR has the advantage, with a lower operating weight of 8,996 pounds — the E42 weighs in at a significantly heavier 9,830 pounds.
Equipment Ease of Operation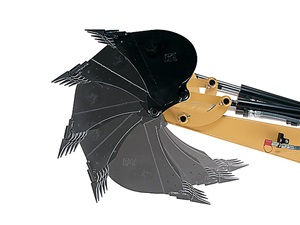 Equipment controls can have a significant impact on overall productivity on the job. Operability can increase your comfort level while working and give you more precise control for demanding applications. Both excavators provide a user-friendly control panel. The Cat COMPASS control panel provides intuitive controls for easy auxiliary flows adjustment, economy mode settings and enhanced security systems management.
The optimized front shovel bucket orientation of the 304E2 CR offers more ways for the operator to complete a task. Both excavators provide a wide range of attachments to perform various operations and extend their versatility on the job site.
Ease of Comfort With The Bobcat E42 & Cat 304 E2 CR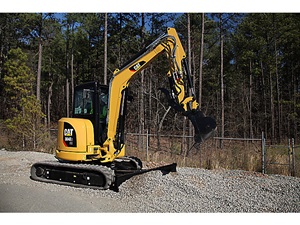 With comfort features for the cab, you can maximize uptime and productivity while keeping your workers safe and alert. Offering low-effort joysticks and adjustable seats, both excavators provide features to reduce operator fatigue. They also both provide enhanced visibility and large cabs for increased comfort day in and day out.
Machinery Maintenance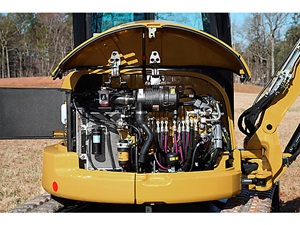 When you have equipment that's easy to maintain, you get better performance and less downtime. Both excavators offer easy-to-access service panels for maintenance requirements. However, the Cat model has an operational edge with its ground-level maintenance points, which are grouped together for easy access to components, filters and other key service areas.
Explore What the Cat 304E2 CR Has to Offer
When you need trusted operational capabilities, Caterpillar offers robust equipment that can handle your toughest applications. If you're in the market for a new mini excavator, Mustang Cat has a broad inventory available to meet your requirements. Work with us to get the exact Cat 304E2 CR configuration you need for the job.
To get started, stop by one of our several locations any time to see the Cat excavator selection for yourself. As the exclusive Cat dealer in Houston, we can help you get the right machine so you can tackle your projects with confidence. Contact us today.
Compare Machines in our Comparison Tool >>